News > Pacific NW
Scientists assemble Kennewick Man's bones
Mon., July 11, 2005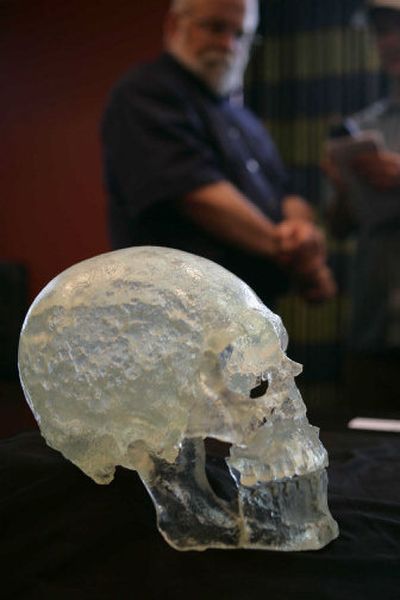 SEATTLE – Cloistered around padded tables in an undisclosed museum room, scientists from around the country have been peering through microscopes and measuring bone fragments trying to unearth the history of an ancient skeleton found along the Columbia River.
Researchers on Sunday offered details of their first comprehensive study of the 9,000-year-old Kennewick Man, one of the oldest and most complete skeletons ever found in North America.
The team of anthropologists, geochemists and data analysts have been busy assembling the skeleton's more than 300 bones and bone fragments at the University of Washington's Burke Museum of Natural History and Culture, where the remains have been since 1998.
Scientists have been cataloguing some previously unidentified pieces and re-evaluating others. They've also been measuring remains, examining cracks and breaks in the bones and studying various discoloration in an attempt to put Kennewick Man's past together.
"This individual's biography is written in his bones," said Dr. Hugh Berryman, a forensic anthropologist from Middle Tennessee State University. "This is a window into the past."
Likening it to a Rembrandt, Berryman said scientists early on knew the skeleton had much to offer because of its age and completeness.
"I'm very interested in that skull," Berryman said as he pointed to ice-blue translucent plastic models of a skull and pelvis, sitting atop a boardroom table at the University Towers hotel near the UW. "There appears to be some European-type facial features." That, he said, could suggest there were other migrations of people other than those strictly out of Asia.
Certain skull measurements, including the shorter face and less width across the cheekbones, don't match that traditionally associated with Native American characteristics, said Dr. Douglas W. Owsley, a forensic anthropologist with the National Museum of Natural History at the Smithsonian Institution in Washington, D.C.
Those observations have been part of the nine-year legal battle between researchers and Northwest Indian tribes.
After the skeleton was found by two college students along the banks of the Columbia in 1996, the Umatilla, Yakama, Nez Perce and Colville tribes wanted the bones reburied without scientific study.
They claimed they were entitled to the bones under the Native American Graves Protection and Repatriation Act.
The U.S. Army Corps of Engineers owned the land where the remains were found and was set to relinquish the bones.
But scientists sued for a chance to study the remains.
Last year a three-judge panel of the 9th U.S. Circuit Court of Appeals, agreeing with an earlier decision by a federal judge in Portland, ruled there was no link between the skeleton and the tribes.
The Yakama, Umatilla and Nez Perce tribes have appealed the Oregon district court's latest ruling limiting further legal action in the case to the government and scientists seeking study of the remains.
The taphonomic, or forensic, study scientists will perform during their 10-day examination at the Burke will help determine the effects that weather and animals had on his remains after death.
Ultimately, they'll focus on identifying his origins, and how he lived and died.
Models of the skull and pelvis, which has a projectile — perhaps a spearhead — embedded in the hip, will be used to construct a permanent cast to be used for additional research and to minimize impact to the actual skeleton.
Later, researchers will be analyzing samples taken from fragments of the leg during government studies in 1999 and 2000.
No public viewing of the remains is yet planned by the Army Corps.
As part of a casual media availability Sunday, slide shows of scientists at work last week offered a glimpse into the scientific process, much of which included assembling the bones on a 3 foot by 8 foot sand table that allows them to rest naturally.
With assembly expected to be complete early this week, Kennewick Man has already begun to take shape.
"It's the most beautiful sight in the world," said Cleone Hawkinson, a physical anthropologist and president of Friends of America's Past in Portland.
Local journalism is essential.
Give directly to The Spokesman-Review's Northwest Passages community forums series -- which helps to offset the costs of several reporter and editor positions at the newspaper -- by using the easy options below. Gifts processed in this system are not tax deductible, but are predominately used to help meet the local financial requirements needed to receive national matching-grant funds.
Subscribe now to get breaking news alerts in your email inbox
Get breaking news delivered to your inbox as it happens.
---