Sports
Sentiments shift at St. Andrews
Fri., July 15, 2005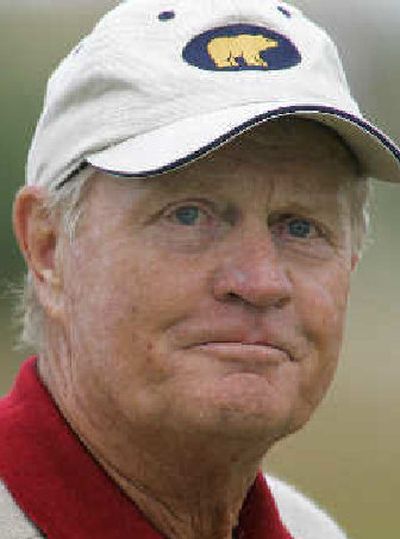 ST. ANDREWS, Scotland – Reality intruded briefly Thursday on the British Open.
We were supposed to get teary eyed over Jack Nicklaus in what was likely his next to last round as a competitive player.
Instead, there were real tears as a hush came over the Old Course, spectator and golfers alike stood in silence, and Britain paused to remember its dead.
It didn't last long, only two minutes at high noon, with Nicklaus deep on the back nine and Tiger Woods perhaps on his way to his latest major championship win.
In true British fashion, it was done simply. Hats off, heads bowed, in tribute to those killed and hurt in last week's London bombings.
Near the second green, a woman laid her head on her husband's shoulders and wept. In the massive grandstands around the 18th hole, most everyone stood stoically, the only sounds coming from the wind and gulls flying overhead.
For a few moments, golf didn't seem so important anymore, even to the best player ever.
"That was very, very appropriate," Nicklaus said.
A week has passed since suicide bombers blew up themselves in subway cars and a double-decker bus, killing at least 52 people and injuring hundreds of others. The bodies of some of those killed were so badly mangled that authorities say it could take weeks to identify them.
Nicklaus thought of the families of those killed as he stood, arms behind his back, facing a throng that had come to watch him one last time. Woods was a few holes behind him, just short of the 14th green and thinking of his mother, Kultida, who was in London when the bombs went off.
"I was more thankful than anything else because my mom was in the building right across the street from where the bomb blew up," Woods said. "I was very thankful that my mom is still here."
It was all about family for Nicklaus, too. They had traveled to St. Andrews for his last major championship appearance – son Steve was on the bag, while wife Barbara, sons Gary and Jackie, and daughter Nan were part of the gallery.
They also knew something about recent tragedy. Steve's 17-month-old son, Jake, drowned in a hot tub in March, and Nicklaus was still visibly distraught about the death of his grandson when he played his last Masters.
Even without Steve caddying, this week was going to be an emotional one ever since the dates of the Open were penciled in. The Royal & Ancient moved St. Andrews up a year in the rotation of Open courses so Nicklaus play his last one at his favorite place.
He was introduced on the first tee with no fanfare, simply as Jack Nicklaus from the United States. The crowd that gathered under gray skies in the pre-breakfast hour sensed they were in for something special when Nicklaus hit a 7-iron onto the first green and sank a 6-footer for birdie.
But this was the 65-year-old Nicklaus, not the great player with the tousled blonde hair who won three Opens and engaged Tom Watson in one of the greatest duels in golf at Turnberry in 1976.
At one time he was the longest around, but now his tee shots were short, his iron shots indifferent and his putter balky when he needed it most.
The old competitive desire flared when he dropped his putter in disgust after a third straight bogey on the 13th hole.
He finished with a 3-over-par 75, the same as Watson, who was along for the largely ceremonial ride neither player wanted.
His long goodbye will almost surely end today, unless Nicklaus can do something spectacular and muster up the 68 he probably doesn't have in the bag anymore. Nicklaus knows it better than anyone, but he doesn't seem to want to let go, and certainly will never allow himself to give in.
He played a round on a golf course that requires tremendous concentration, paused for a moment to honor the dead, and, finally, went out of his way to talk with reporters afterward.
Still, he wasn't going to concede a thing when asked if he were prepared for his final walk across the Swilcan Bridge today.
"What do you think? What would you think? Am I prepared? I'm here. If I wasn't prepared, I wouldn't be here," Nicklaus said.
The truth is, he's been preparing for this moment for quite some time.
There will be different emotions today, when the British fans who have grown to treasure Nicklaus say goodbye and he walks over the bridge on the 18th hole for the final time after 164 major championships.
He wanted to put those thoughts away for another day.
Thursday he wanted to talk about something more serious.
"It's just so crazy," Nicklaus said. "I just can't understand why people would kill each other.
"How did we get this way?"
Local journalism is essential.
Give directly to The Spokesman-Review's Northwest Passages community forums series -- which helps to offset the costs of several reporter and editor positions at the newspaper -- by using the easy options below. Gifts processed in this system are not tax deductible, but are predominately used to help meet the local financial requirements needed to receive national matching-grant funds.
Subscribe to the sports newsletter
Get the day's top sports headlines and breaking news delivered to your inbox by subscribing here.
---