News > Features
From bullets to Barney
Sun., July 17, 2005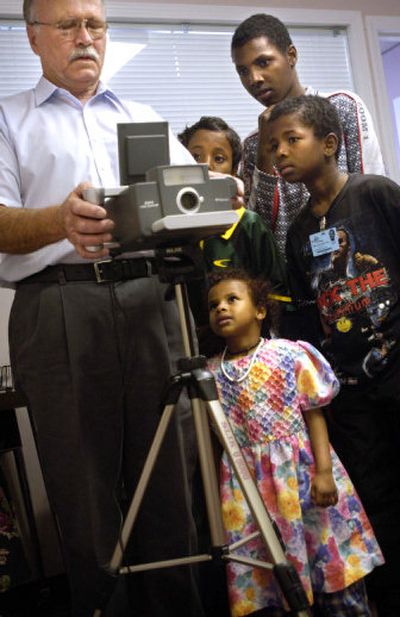 Thick black sunglasses hide the world from the eyes of Aweis Abbas. They used to see his 10 children and his wife, Maryian Sherif, hiding beneath beds and in the corners of their home in Mogadishu, Somalia, fearing for their lives as they were caught up in the mess of tribal warfare that has rattled the African nation since 1991.
They used to see thousands of starving Somalis fleeing their homes and shooting one another in neighborhood streets.
Seven years ago, they saw artillery fire headed right toward them.
Now they don't see anything.
Not the alphabet cutouts on the dining room wall in their four-bedroom duplex on DeSmet Avenue in Spokane. Not the faces of the eight children who flock around the table where Aweis waits for lunch.
But Aweis can smell the food. There's chicken, beef, Somali spaghetti, fry bread, bananas, apples, oranges, potatoes and juice – all prepared by Maryian, who still can't believe there are people at the local churches who give food away.
Not so long ago she was hiding among the goats and chickens in her Somali yard when soldiers would pass by.
She laughs about it now.
"Even the chickens were scared," she says.
Most of the African refugees know Molly Popchock, ESL coordinator at the Community Colleges of Spokane Adult Education Center, well because few speak English upon arrival and many – especially women – aren't literate in any language. But that's just one rock on a mountain of obstacles, says Popchock, who sometimes joins the Abbas family for a meal.
"When you come from war like that, there are a lot of problems that come with you – grief, stress, physical, mental," she says.
Grief overwhelmed the Abbas family first.
They fled Somalia on Aug. 22, 2001. Fearing for their lives, they crowded with hundreds of other refugees onto different merchant boats for the voyage from their port-city home to Cairo, Egypt.
Aweis, already blind, could only hear the storm and the cries of his family as they saw some of the boats capsize and two of their 10 children drown in the Indian Ocean.
"I don't feel nothing that I left my home country," he says through an interpreter, Daniel Siyum, a fellow refugee from Eritrea. "Before the war, you were having a good time. After the war, everything's complicated. Now, there's no future in Africa."
When they arrived in the Egyptian camp, the older children attended school for the first time while Aweis and Maryian waited to be granted refugee status, a process that begins with an application to the U.N. High Commission for Refugees.
Those with a compelling reason to be resettled are assigned by the United Nations to a country that has resettlement agencies like World Relief, which decide where to send each person. Linda Unseth, Northwest regional director at Spokane World Relief, says Spokane is a good destination for many reasons.
"We have reasonable rent. We have a great system with ESL. We have great medical here," she says. "The community is small enough where it's safer for the people to live. I'd much rather learn how to drive a car in Spokane than Seattle."
But Spokane is still a long way from home for the Africans, who are shocked by busy downtown streets, obtaining a driver's license and shopping at Safeway. Unlike Slavic, Vietnamese and Hispanic immigrants, Africans aren't arriving to established community groups, save a small contingent of Ethiopians and Eritreans who came as refugees about a decade ago.
To help bridge that gap, several refugees and community volunteers have formed the African Support Team, which offers help and encouragement as they adjust to a new way of life. The Adult Education Center has a strong partnership with the Spokane Police Department, the local housing authority and area schools, but volunteer and interpreter Elnour Hamad, who came to the United States as a political asylee in 1992, would like to see more at-large community members get involved.
"Things here are way too structured for a person who's coming from Africa," says Hamad, an art education professor at Eastern Washington University. "If they're left to their own, they're going to suffer. I don't think people are doing enough in that regard."
For the Abbas family, assistance has been critical. Aweis works every Friday with the Lilac Foundation for the Blind, learning to type on a Braille keyboard in hopes of being able to work eventually.
Maryian is at home to care for the children. Both are taking English classes and receive public assistance. But most refugees struggle to find child care for their kids. Washington's current welfare system subsidizes child care only if parents are working, but it's difficult to find and start a job with kids at home.
"It is the biggest barrier in this town for these people," Popchock says.
The eight surviving Abbas children, who range in age from 4 to 16, are all enrolled in school. Two have behavioral problems and only the older ones have really grasped English.
In the Egyptian refugee camp, Maryian and Aweis didn't have to keep quite as close an eye on their children because people looked out for one another's kids. Here they can't run outside without fearing traffic, and they can't play with neighbors' toys without asking.
But Aweis doesn't want to talk about those things. His life, he says, couldn't be better.
"Every day I am happy," he says. "I am free to eat, go to the store. We have a bright life now."
Today, front teeth are missing all around his living room table. His healthy children are at times uncontrollably loud, but after so many years of hiding, being unable to go outside or make noise the way every child does, it's difficult to scold them.
Ten-year-old Omar plugs his ears as some of the others sing the Barney theme song loudly so Popchock can hear it in the dining room.
There's a Barbie sticker on the refrigerator and a Blue's Clue's shirt on 4-year-old Faila's back.
"Want to stay in United States, where kids become doctor, lawyer, engineer," Maryian says in very broken English, laughing.
Just home from a day at summer school, 15-year-old Ahmed says he hasn't chosen one of those yet. But he wants to go to college. Right now, his favorite class is English.
Local journalism is essential.
Give directly to The Spokesman-Review's Northwest Passages community forums series -- which helps to offset the costs of several reporter and editor positions at the newspaper -- by using the easy options below. Gifts processed in this system are not tax deductible, but are predominately used to help meet the local financial requirements needed to receive national matching-grant funds.
Subscribe now to get breaking news alerts in your email inbox
Get breaking news delivered to your inbox as it happens.
---