Easing into downsizing choices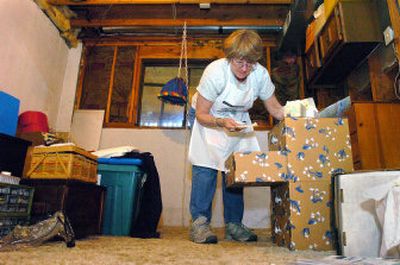 Jill Jurvelin's parents had lived in their downtown Coeur d'Alene home for 50 years before the stairs, yard and laundry facilities in the basement began to challenge their 80-plus-year-old bodies.
Jurvelin's parents had aged well. Her dad, C.J. Hamilton, who died this year, biked and swam regularly into his 80s. Still, the Hamiltons knew a home on a single floor made more sense for them, so they planned a move in 1999 into a condominium overlooking Lake Coeur d'Alene.
Condensing their lifetime of possessions was delicate and major work, Jurvelin learned.
"We learned how to pick and choose," she said. "We worked through what really matters."
The Hamiltons were lucky to have family nearby to help with an emotional move, said Barbara Morris, founder of Smooth Transitions, which manages senior moves. The Louisville, Ky., business began 10 years ago to help seniors without family support organize their belongings for a move to smaller quarters.
"A lot of folks don't have a family support system and need help," Morris said. "I moved one person six times, and in that process I basically became her daughter in town."
The explosion of the senior population in North Idaho – 43 percent growth since 1990 – as well as her personal experience helping her parents and in-laws downsize inspired Jurvelin to study with Morris and offer the same service in Coeur d'Alene. Her business is the first of its kind in Coeur d'Alene, but some churches offer similar services at no charge.
Pearl Bouchard, director of Aging and Adult Services for North Idaho, said seniors haven't questioned her office about help with moving, but that doesn't mean the need isn't there.
"We don't have the wealthy people here who might be able to afford that kind of attention," Bouchard said. "But things are changing and it sounds like a valuable service."
The service Morris began and Jurvelin now offers doesn't target the wealthy. Jurvelin charges $20 an hour to help seniors decide if a move is necessary and what a new home should include – for instance, round-the-clock nursing care or an on-site caretaker, wide hallways and doorways or a patio instead of a garden.
Jurvelin organizes possessions and helps seniors decide which to keep. Before the move, she takes photographs of the layouts on kitchen and bathroom counters and chest-of-drawer tops to copy the patterns in the new surroundings.
"If you set up things how they're familiar, it's as little shock to the system as possible when they move," Jurvelin said. "It's already so traumatic, especially if they've lived in one place for 20 or 30 years."
She measures new living quarters so seniors know how much furniture and other belongings will fit. Jurvelin also helps seniors decide how to distribute belongings they can't take with them. Some items go to family, others to women's and children's shelters. Many seniors want yard sales, she said. Jurvelin coordinates packing, disposal of trash and finding movers, if necessary.
"I try to help them see a bright side, but I don't push it," she said.
Jurvelin heard about Morris at a real estate workshop. She learned that Morris was a founding member of the National Association of Senior Move Managers, a watchdog group that formed to help seniors move and guide them to reputable help.
Morris, a former hospital public information officer, said years of helping seniors move taught her to eliminate some of the stress from a highly emotional change.
"I provide a lot of hand-holding," she said. "Sometimes we just sit and cry together because that's the only solution."
People's interest in her ideas motivated her to develop a workbook for do-it-yourselfers and licenses for people who want formal training and certification as senior move managers.
Jurvelin earned her license nearly two years ago. She said her earnings from Smooth Transitions in Coeur d'Alene will go toward adult literacy programs in North Idaho.
---