O'Connor picks wade over row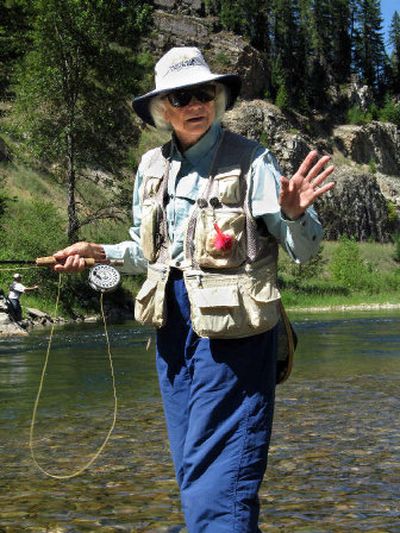 Far from the marble halls of the U.S. Supreme Court, Associate Justice Sandra Day O'Connor was in my minivan near St. Maries, Idaho, on Tuesday when she finally offered her definitive decision on Row v. Wade.
"I don't want to be confined in some little boat when you can have a whole river around you," she said. "I sit on my butt enough. I want to wade."
She also confirmed that a judge from the highest court in the land could fish a river named "St. Joe" without compromising her position on the separation of church and state.
And she didn't need her U.S. Marshal escorts, either. She gave them the day off so she and her husband, John, could enjoy the outdoors much as normal people would.
Leaving no doubt that she's as well prepared for retirement as she was to be the first woman on the Supreme Court, O'Connor, 75, cast a dry fly into the crystal clear stream and said, "It doesn't get any better than this."
Indeed, the North Idaho forest was gleaming green, the skies blue and cloudless and she loved the cool water on her legs as the daytime temperature soared toward the 90s.
Not a single biting insect was in the air. In fact, virtually no insects were in the air or on the water.
The swallows were saving their energy, hunkered in their lairs waiting for an evening dinner bell.
So were most of the fish.
The river's cutthroat trout, famous for being agreeable to virtually any offering, refused almost every fly pattern O'Connor and her companions drifted down the stream.
"We're doing everything we can, but it would help if the fish were a little more cooperative," I said.
"Yes, it's like the Congress," she said with a grin.
O'Connor came this week to the 9th Circuit Judicial Conference in Spokane perfectly equipped for the court of piscatorial opinion – felt wading shoes, a 5-weight travel rod and a Hardy Princess reel.
"I love to golf," she said. "But you can golf almost anywhere. It's not everyplace that you can go fly fishing for trout."
O'Connor took a day away from the conference to itch the fly-fishing passion she's had for some 30 years. "I have an outing every year with my clerks and we've often got them outfitted to go out fly fishing on some place like the Potomac," she said, noting that she's had only one clerk in her tenure on the court who could be considered a serious angler.
"You never know what you're going to catch there. Maybe a catfish. Ooh, I hate the looks of a catfish."
She talked some shop during the trip with local fishing co-host Robert Whaley, a federal court judge in Spokane, although one discussion was cut short when she spotted a brood of wild turkeys and told me to stop the minivan and let her out to take a picture.
Meanwhile, she was vigorous in her defense of an independent judiciary, galled by Congress' attempt to override states' rights in the Terry Schiavo case and saddened by the current trend in Congress to define judges as "activists" for decisions based on the law.
How does she recommend dealing with these adversaries?
"I try to be friendly with them," she said. "We all learn more that way."
That's also the way she regarded the uncooperative cutthroat trout.
"They want something else," she said from a clearly centrist position between two fine runs on the river. "We just have to find out what it is."
I chuckled at the snub we were getting from the fish that were hitting my flies with abandon just six days ago.
"This is still a landmark day for me, Justice O'Connor," I told her. "It's the first time I've gone fishing with someone qualified to interpret the legal vagaries of the Idaho fishing regulations."
She showed her mettle – forged while growing up on an Arizona cattle ranch – as she climbed several slick, steep river banks without so much as a dissenting opinion.
She also showed her propensity for carefully calibrated opinions based on facts rather than sweeping fly-fishing doctrine.
"I know this is a great dry-fly river," she said, "but I think it's time to try a bead-head dropper."
A fly fisher who generally practices habeas corpus by releasing her quarry, O'Connor admitted to being upstaged by several other justices who have caught big fish in Alaska and shared the catch back in the Supreme Court kitchen.
"Well, (Stephen) Breyer dropped a line in the water and somebody must have dived under the boat and tied a fish on his line because he came back with a salmon, which everyone loved," she said.
Not to be outdone, Antonin Scalia went to Alaska and came back with a halibut. "But catching a halibut isn't fishing," she pointed out. "It's just dropping a big hunk of lead to the bottom and hauling something up. There's no art there."
Even on a "day off," O'Connor had to endure the responsibility of being one of the most powerful women in the nation. She had to take a call from the Supreme Court to give her opinion on an important issue, and her schedule left her no choice but to fish in the mid-day doldrums.
In the end, she was the swing vote in the decision to leave even as several large mayflies appeared on the river surface and a few fish finally began to rise.
Her honor was gracious and comfortable switching roles with the fish, for as she left the St. Joe, the cutthroat trout were the final judge of everything presented to them.
---