News > Idaho
Ada Hanson an entertaining, interesting teacher
Sat., July 23, 2005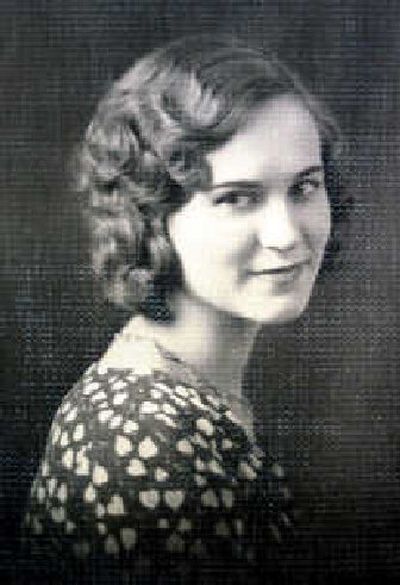 Ada Hanson was a dedicated early schoolteacher in Idaho, 19 years in Coeur d'Alene and 39 years total in the state.
Hanson was only 18 when she received her degree from Lewiston Normal School, now Lewis-Clark State College, and began teaching in a one-room school on Bear Ridge near Kendrick, Idaho, close to her birthplace.
She died June 19 from heart failure at Four Seasons Assisted Living at the age of 92.
Hanson's mother was an educator as well and taught her daughter until her graduation from high school at age 16. Her mother was very strict, but Hanson was a good student, and that's why she graduated at such an early age, according to Hanson's only son, John.
Hanson started teaching in 1931 and spent the next 20 years as a single schoolteacher. She was a "stunning beauty"with a fine intellect, according to her son , who also is an educator.
During World War II, she worked one summer at the Kaiser shipyard in Vancouver, Wash., as the lead woman on the swing shift. But she missed teaching, and since teachers were in demand, she returned to Idaho.
She married Robert Hanson, a state trooper, when she was 39, in Moscow. At the time, she was teaching in Lewiston. Her contract stated that "if becoming pregnant, you must resign when two months along." She was allowed to finish the school year, and her son was born in August 1953. Hanson didn't teach again until her son was in the first grade, which was in Idaho Falls.
John Hanson said that his mother absolutely did not want to be his teacher because of her own mother educating her. When they moved back to Coeur d'Alene, where they still had a house in the Fort Grounds, John Hanson went to Sherman School, which is now the North Idaho College Administration Building. His mother was informed of two fourth-grade teaching vacancies, one of which was at Roosevelt, circa 1905, now a bed and breakfast. Her friend, school nurse Millie Burt, told her to take the Roosevelt position, as they had "four congenial teachers and great parents."
First through fourth grades were taught at the four-room school. Hanson became great friends with first-grade teacher Marjorie Olin and Nancy Mae Larson, the principal and third-grade teacher who had attended Lewiston Normal School with Hanson.
There she began her eight years as a fourth-grade teacher until Roosevelt School was closed in 1970.
Olin said that Hanson was "interesting and loyal." Olin taught first grade for 25 years, then continued to work as a substitute teacher for another 10 years. Both women were members of Alpha Delta Kappa, an international teachers' sorority.
"We had an ADK 50th anniversary at the old Roosevelt School this year," Olin said. "It was really fun to work there."
She said that Hanson was strict when she had to be but that she was a very entertaining teacher, showing her students how to square dance. She had records with music and calls. In her own memoirs, Hanson mentions the superintendent of schools, Clay Coy, who had informed her that she would have to stop teaching the dancing, because "a minister who had a daughter came to his office and objected." Hanson told him it was folk dancing and permissible.
Olin said that Hanson was also very good at teaching Idaho history and that she would take her students to the Cataldo Mission as part of their curriculum.
"She was a good teacher, interesting to her students," Olin said.
Hanson was extremely happy about her 90th birthday party at the Roosevelt two years ago. Olin and Larson were among many friends in attendance. The event even made the ADK newsletter.
John and Tina Hough, who now own and operate the Roosevelt , have fond memories of Hanson, as her son attended school there when he was a boy, and Hanson was his fourth-grade teacher. The ADK meetings have been held annually at the Roosevelt since 2000.
"She was a sweetheart, a nice, nice lady," Tina Hough said. "Ada had the greatest sense of humor. She would cut a joke and have everyone in stitches. So many people here – parents and teachers – respect her."
There is even a room named after her at the Roosevelt. Hanson was able to pick the room she wanted named after her, as did Olin and Larson. She picked a room, which with Larson's room comprises a suite, because "it's the brightest room in the B&B," she told Tina Hough.
After the Roosevelt closed as a school, Hanson went on to teach at Winton Elementary. After she retired, she was a volunteer at the senior center and the museum at Fort Sherman on the NIC campus. She traveled to many states, Canada, Europe, Hawaii and the South Pacific.
Since her death, John Hanson has found a journal of a trip his mother took across the country with her mother in 1938 that he never knew about. They traveled with several other teachers and attended lectures learning about history and visiting Civil War battle sites, among other historical locations.
John Hanson left Coeur d'Alene in 1976 but would visit his mother every summer up until she sold her beloved Fort Grounds home in 1997. Neighbor Cheryl Chavez has many fond memories of Ada Hanson, who brought fresh brownies to her door when she moved to Coeur d'Alene from Dallas. Chavez spent many afternoons into night, sitting with Hanson sharing stories. She couldn't believe her eyes when the "For sale" sign went up on the Forest Drive house.
The house is still there and is an "extraordinary example of a total renovation," John Hanson said. He can still see the original house, although it has been greatly enhanced. His mother loved Tubbs Hill, which was close to home, and walked it often with him when he was a boy.
"My mother hadn't been up there in a number of years," John Hanson said.
She is there now, as that is where he scattered her ashes, per her wishes. Her name will be added to a memorial at the west entrance to the trail, a large boulder maintained by the Friends of Tubbs Hill. It will read, "In memory of Ada R. Hanson."
Local journalism is essential.
Give directly to The Spokesman-Review's Northwest Passages community forums series -- which helps to offset the costs of several reporter and editor positions at the newspaper -- by using the easy options below. Gifts processed in this system are not tax deductible, but are predominately used to help meet the local financial requirements needed to receive national matching-grant funds.
Subscribe now to get breaking news alerts in your email inbox
Get breaking news delivered to your inbox as it happens.
---