Sports
Brown to take over Knicks
Thu., July 28, 2005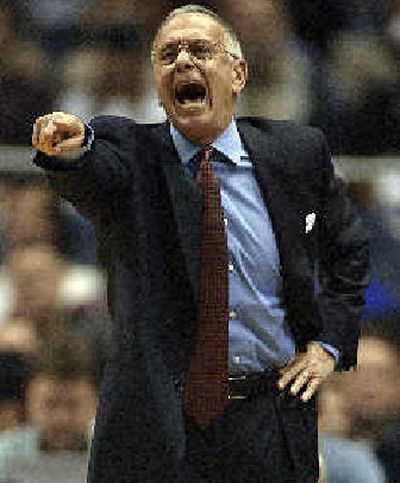 NEW YORK — Larry Brown took Allen Iverson to an NBA Finals. He won a championship with Rasheed Wallace, made the playoffs with the Clippers and was the first UCLA coach not named John Wooden to reach the NCAA title game.
Throughout his Hall of Fame career, Brown has never shied away from a challenge and often takes over a bad team and turns it into a winner. Now, with the World's Most Famous Arena as a backdrop and the legend of Red Holzman hanging over him, Brown is facing perhaps his most daunting task to date.
"To be honest with you, there hasn't been one job where I didn't feel like it was an unbelievable challenge," Brown said Wednesday night. "Just look at my track record. I've taken over some woeful teams."
The Knicks reached an agreement with Brown on Wednesday night to become the 22nd head coach in franchise history. A press conference to formally announce the hiring is scheduled for noon today at Madison Square Garden. Terms of Brown's contract were not disclosed, but he is believed to have signed a five-year deal worth between $50 million and $60 million, which would make him the highest-paid coach in professional sports history.
"We're all stealing," Brown joked before the deal was announced. "Coach (Dean) Smith gave me my first coaching job. I made $6,000 and I had to run the summer camp. I thought I was overpaid."
Born in Brooklyn and raised in Long Island, Brown returns home to coach the team he grew up rooting for. He remembers Joe Lapchick, Dick McGuire, Holzman and the days when Knick fans would cheer intelligent basketball plays. Today, Brown is taking over a team that had 33 victories last season and hasn't won a playoff series since 2000. The Knicks' last championship came in 1973. Every major professional sports team in New York has won at least one championship in the last 32 years except for the Jets and Knicks.
"I know what the New York Knicks mean to basketball, the city and what they mean to the league," Brown said. "I know how passionate people are in this environment and how much they understand the game. It's pretty amazing. They know when you're playing the right way. I used to love to watch them play with Pat (Riley) and then Jeff (Van Gundy).
"I want badly for this thing to turn around. I'm going to do my very best. It's not going to happen because of me. It's going to happen because of all the people Isiah (Thomas) has in place."
Brown and his family received assurances from Thomas and Garden chairman James Dolan that they would understand and support Brown if his health problems forced him out of action. Brown missed 17 games last season with Detroit after having hip surgery and later developing a bladder condition.
Brown, who says he intends to coach all 82 regular-season games next season, will be reevaluated by doctors at the Mayo Clinic in December. If Brown is forced to miss any time, Herb Williams would be the acting coach.
"The biggest thing was having Herb because he's done it," Brown said. "I feel comfortable with him. He deserves to be a head coach in our league. When Lenny (Wilkens) left he did a really good job. He knows the team and he's loyal."
Local journalism is essential.
Give directly to The Spokesman-Review's Northwest Passages community forums series -- which helps to offset the costs of several reporter and editor positions at the newspaper -- by using the easy options below. Gifts processed in this system are not tax deductible, but are predominately used to help meet the local financial requirements needed to receive national matching-grant funds.
Subscribe to the sports newsletter
Get the day's top sports headlines and breaking news delivered to your inbox by subscribing here.
---