News > Idaho
Out from under
Sat., July 30, 2005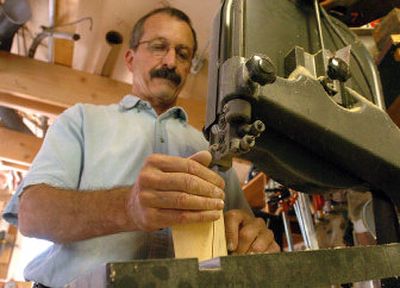 Allen and Mary Dee Dodge are following their bliss. They've left their successful silk-screening business behind to make stuff out of wood together in their back yard.
And they couldn't be happier.
"This feels like a honeymoon!" Mary Dee says.
"I feel like I did in my 20s," says Allen, "and have about the same amount of money in the bank."
The former owners of Local Color, a custom silk-screening business, the Dodges have left the traditional business world and decided to return to pursuing their art full time. They work from not-quite-twin studios, making brightly painted, 3-D sculpture and wall art out of local pine.
Mary Dee, originally from Chicago, and Allen, who grew up in Kansas, met as students in the fiber arts department at Kansas City Art Institute. They married in 1974 and soon settled in Coeur d'Alene. They began creating large fabric sculptures, worked in various artistic venues for a decade and then started Local Color with the vision of continuing their pursuit of art, silk-screening for a living. But over the years it metamorphosed into merely production work. The job became work.
"Local Color was a roller-coaster ride through the years, but we quit on a successful note," Allen says. "It was actually an easy decision to stop. A woman walked in with an order one day last spring, and I just looked at her and said, 'I'm sorry, but we're not doing that anymore.' I put the equipment up for sale on the Internet and sold everything within half an hour to a businessman in Peru who does silk-screening for Gap and Old Navy. We leased the building to Shabby Chic, by the middle of June, I was out from under my 60-hour work week, and here we are."
The couple is currently preparing pieces for a booth at Art on the Green, a week away. Their pieces probably best fit under the folk art category, most of them taking the form of 3-D wall art or sculpture. Birds are a common thread, with countless crows showing up, "probably due to our living across the road from the cemetery," says Allen.
From crows to just plain folk, every piece exudes vibrant life in some form. Their collection of everyday saints exhibits their sense of humor and whimsy. There's the Saint of the Blue-Plate Special, the Baker, with a pizza halo, the Saint of Tapas, the Saint of Squash, the Saint of Lost Glasses, wearing a gown covered with Picasso-esque eyes, and the Saint of Bad Transmissions, complete with tool belt.
Of their style, Allen says, "We're two of the original ADHD people, and we revel in it. We have varied interests, and it's easy to jump the tracks. Our style right now is eclectic – all over the board – but count on it being cheerful, a mix of mystery and humor. We're not in any sort of stride yet, but are working toward a definitive sense of continuity. Talk to us in a year."
Allen uses primarily white pine for his sculpting.
"I use firewood. I mean I actually just use our firewood," he says. "We cut and haul wood from the forest in our pickup, and I go out to the woodpile and bring pieces into my studio. We burn the red fir, and make stuff out of the white, yellow and bull pine. It's lovely to work with."
Mary Dee and Allen have slightly different approaches to order, as evidenced by the state of their individual studios. Mary Dee's studio looks like a cross between a Shinto shrine and a Shaker art gallery: soft music playing, half the room dedicated to their future studio gallery, with finished pieces artfully displayed on the walls, a work table with a dozen tubes of paint, a jar of clean brushes, and a single project laid out and waiting for her alchemist's touch.
Allen, on the other hand, describes himself as a binge cleaner. His 79 favorite pieces of wood are spread out all over the floor, so he can see what he has to choose from, tools and equipment cover every horizontal and vertical surface. There are no Marks-a-Lot outlines of tools on his pegboard. He says, "I look at a chunk of pine, and I actually see a foot … or a fish …"
Allen sculpts the pieces and then walks them through the garden and across the courtyard to Mary Dee's studio, where they hang on the wall across from her work table until she can evoke a vision. She titles each piece while she's working on it.
"Naming a piece gives it focus; it's a furthering of the story," he explains. "Every piece has an unknown element, a bit of mystery, and I look to find the spirit that I'm going to pull out."
About the financial risk of "following their bliss," Allen says, "We have a window of opportunity, and the challenge to find our market. I know it exists. Emotionally, we were risking ourselves continuing in the business. I was emptied out, just sticking it out. There's a river over there somewhere. We can hear it in the distance, and we know we're moving toward it. There's integrity and continuity in our daily routine now. All the parts make sense."
Mary Dee adds, "We have faith in the universe to support us, because it's truly what we should be doing."
Local journalism is essential.
Give directly to The Spokesman-Review's Northwest Passages community forums series -- which helps to offset the costs of several reporter and editor positions at the newspaper -- by using the easy options below. Gifts processed in this system are not tax deductible, but are predominately used to help meet the local financial requirements needed to receive national matching-grant funds.
Subscribe now to get breaking news alerts in your email inbox
Get breaking news delivered to your inbox as it happens.
---