Sports
All isn't Wells for Franklin and M's
Wed., June 1, 2005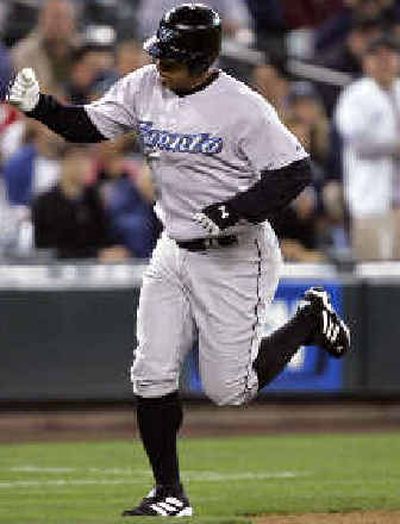 SEATTLE – Run support wasn't an issue for Ryan Franklin on Tuesday.
That point was settled early when the Toronto Blue Jays raked Franklin with five runs in the first inning, mixing bombs with bleeders on their way to a 9-7 victory over the Seattle Mariners at Safeco Field.
"It was one of those nights. Every pitcher in their career has had one of those," said Franklin, who fell to 2-7.
The Mariners, their lineup filled with reserves late in the game after they'd fallen behind by seven runs, managed a too-late comeback in the ninth inning. They scored one run in the eighth and four in the ninth off reliever Scott Schoeneweis before closer Miguel Batista got three outs to finish the game.
Franklin, who has gotten one run or less of support in seven of his previous nine starts, made his own hard luck this time.
The Blue Jays led 5-0 after he'd thrown 17 pitches, the runs coming on RBI singles by Orlando Hudson and Aaron Hill, and a three-run homer by Vernon Wells.
Wells also hit a two-run homer off Franklin in the third, making it 7-0.
"Early on everything was up and in the middle of the plate," Hargrove said. "It was so un-typical of Ryan. Everything they hit hard or soft was where we couldn't make a play on it and it cost us five runs."
Before it got any worse, Franklin was gone.
Franklin plunked Reed Johnson squarely on the backside with a pitch in the third inning and plate umpire Jim Wolf immediately ejected him, even though there'd been no warnings and Franklin hadn't come close to hitting any of the Blue Jays until then.
"He obviously thought that Ryan was throwing at Johnson, and he wasn't. The ball just sailed on him," manager Mike Hargrove said. "There was no warning. I was surprised he kicked him out. I expected just a warning."
It was a once-in-a-lifetime event for Franklin, who had never been kicked out in any game he'd played in amateur or pro ball.
"I don't know what his motive was, or what he thought I was trying to do," Franklin said. "Obviously, my control wasn't like it has been my other starts."
Julio Mateo replaced Franklin and pitched well. Mateo, who'd allowed nine hits and four runs in 2 1/3 innings in his previous two outings, allowed two hits over 4 1/3 innings and was burned only by Shea Hillenbrand's two-run homer in the seventh. Seven of the Blue Jays' runs came on homers.
"We just didn't pitch well enough to win the ballgame," Hargrove said.
Blue Jays right-hander Chad Gaudin, making his first start after starting the season in the minor leagues, held the Mariners scoreless through four innings even though they had plenty of baserunners.
Continuing a season-long pattern, the Mariners had runners on second base with less than two outs in three of the first four innings but didn't score. Twice they had runners on second with less than two outs but didn't advance them to third.
The M's finally produced in the fifth when Ichiro Suzuki and Randy Winn hit back-to-back singles with one out and Adrian Beltre doubled them both home.
The Mariners didn't score again until the eighth, when Jeremy Reed singled and went to third on a ground out, then scored on catcher Rene Rivera's single to left.
Rivera, a 21-year-old making his first major league start, went 3 for 5.
The Mariners went on to load the bases with one out in the eighth, then returned to their old form and didn't score when Greg Dobbs and Dave Hansen hit weak flies off Jays reliever Justin Speier to end the inning.
The Mariners rallied in the ninth off Schoeneweis when Jeremy Reed singled to drive in a run, Willie Bloomquist and doubled to score two more before the Blue Jays brought in Bautista, their closer.
He got Rivera on a grounder for the first out and Ichiro Suzuki on another grounder that scored a run before Randy Winn doubled.
That brought the tying run to the plate, although Hargrove's bench-cleaning earlier in the game left Greg Dobbs to hit instead of Beltre.
Dobbs popped up to shortstop to end the game.
Local journalism is essential.
Give directly to The Spokesman-Review's Northwest Passages community forums series -- which helps to offset the costs of several reporter and editor positions at the newspaper -- by using the easy options below. Gifts processed in this system are not tax deductible, but are predominately used to help meet the local financial requirements needed to receive national matching-grant funds.
Subscribe to the sports newsletter
Get the day's top sports headlines and breaking news delivered to your inbox by subscribing here.
---