News > Nation/World
Blaze was arson, officials now say
Wed., June 1, 2005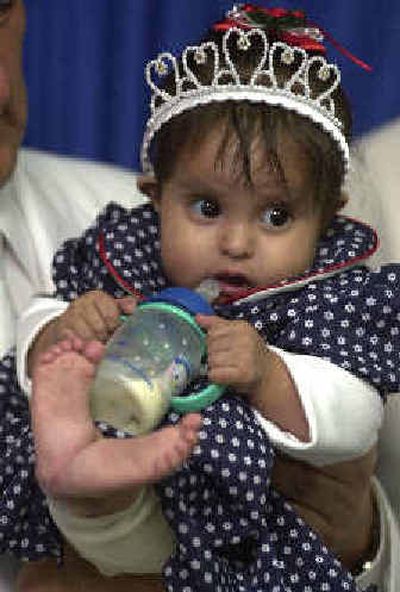 Cleveland Authorities have determined a house fire that killed nine people on May 21 was deliberately set, fire officials said Tuesday night.
City fire investigators and the state fire marshal concluded the blaze was the result of arson, a fire department spokesman said.
The spokesman did not say what evidence the agencies used to reach their finding, which reversed an initial determination that the fire was accidental and not suspicious.
Investigators have not identified a motive or suspect. The department planned to hold a news conference today.
Man kills 3 people, turns gun on himself
Simi Valley, Calif. Three people were killed and five were hurt in a series of shootings, pistol whippings and carjackings that ended Tuesday when the suspect killed himself with a shot to the head inside a Wal-Mart, authorities said.
Officials identified the gunman as Toby Welchel, 38, whose last known address was in Indiana.
About 100 employees and customers were evacuated from the store. Officers found Welchel dead of a self-inflicted wound.
Welchel had a criminal record in Florida, Indiana and California that included resisting arrest and battery on a police officer.
Probe of crime lab finds lax supervision
Houston An independent review of the troubled Houston Police crime lab has uncovered a six-year gap in supervision in the DNA section and allegations of scientific fabrication by analysts.
Independent investigator Michael Bromwich said Tuesday it appears the lab's shuttered DNA/Serology section became dysfunctional in the mid-1990s when conflicts developed between two administrators.
Deficient work resulted from lack of resources to hire and retain qualified analysts as well as a shortage of supervision and management, Bromwich said.
Houston Police Sgt. Nathan McDuell said the lapses under another administration have been acknowledged and steps have been taken to correct them.
Surgeons operate on 'little mermaid'
Lima, Peru Surgeons began a delicate operation Tuesday on Peru's "little mermaid," a baby girl born with legs fused from her thighs to her ankles – and the surgery was the first of three to repair her rare birth defect.
Thirteen-month-old Milagros Cerron was in prime condition for the operation, which was to last four to six hours, said Dr. Luis Rubio, leader of the 11 surgeons to perform the operation.
Milagros, whose name means "miracles" in Spanish, was born with a rare congenital defect called sirenomelia, or "mermaid syndrome," which occurs in one out of every 70,000 births.
Brazil orders killing of 17,000 chickens
Sao Paulo, Brazil Officials ordered the slaughter of 17,000 chickens after 6,000 died from a mysterious respiratory illness in a central western Brazilian state, officials said.
Sanitary authorities do not know what kind of disease the chickens had, but expect to identify it by the end of this week, an animal sanitation manger with the state government of Mato Grosso do Sul state said Tuesday.
Officials refused to say whether it had similar symptoms to avian bird flu in Asia, saying they want to wait for the test results.
The regional death toll in Asia's latest bird flu outbreak stands at 54 people.
Local journalism is essential.
Give directly to The Spokesman-Review's Northwest Passages community forums series -- which helps to offset the costs of several reporter and editor positions at the newspaper -- by using the easy options below. Gifts processed in this system are not tax deductible, but are predominately used to help meet the local financial requirements needed to receive national matching-grant funds.
Subscribe now to get breaking news alerts in your email inbox
Get breaking news delivered to your inbox as it happens.
---