Sports
Brown upset over rumor
Wed., June 1, 2005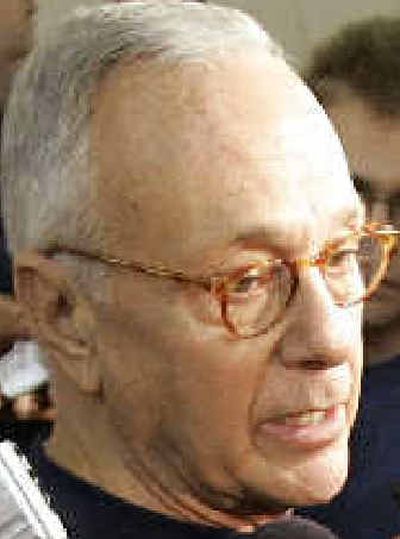 AUBURN HILLS, Mich. – Larry Brown was defensive, testy and defiant Tuesday in reacting to a report that he already had agreed to become president of the Cleveland Cavaliers, sticking with his story that he wants to keep coaching.
ESPN.com, quoting two anonymous league sources, said Brown decided to accept a front-office position with Cleveland. Brown maintains he wants to address a health issue after the Detroit Pistons' season ends before deciding what his next career move will be.
"Why should I worry about Plan B when I'm worried about being healthy?" Brown said. "Why should I ever be thinking about that? I want to coach here. I want to coach. This is what I've done my whole life. I love this team. I think I've said that 100 times. No one wants to write that."
Brown is known to have met with Cavaliers officials after the Pistons gave them permission to speak to him nearly a month ago.
Brown has three years remaining on a five-year contract, but the Pistons have made it clear they would not stand in Brown's way if he wants to secure a position with another club in case his health prevents him from coaching.
Cleveland already has decided to hire Indiana assistant coach Mike Brown as its new head coach, and there have been several reports indicating Milt Newton of the Washington Wizards, who played for Brown at Kansas, is the front-runner for the Cavs' general manager position.
"We will know more this week," Cavaliers owner Dan Gilbert said in an e-mail.
Indiana Pacers vice president David Morway said he is no longer a candidate to become the Cavs' general manager. He had given the Cavaliers a Monday deadline to let him know if he was still in their plans.
"They indicated to me that they were exploring the possibility of hiring a high-profile president, so we came to a mutual understanding and agreement that this wasn't the right situation for me," Morway said Tuesday. "They wanted to go in another direction and I respect that."
Brown was clearly upset at the Pistons' practice Tuesday morning when he was confronted with questions about his future.
Detroit and Miami have split the first four games of the best-of-7 Eastern Conference finals.
"It is what it is, whatever it is," Detroit center Ben Wallace said. "Do I believe the rumors? It is what it is."
Said Lindsey Hunter: "All I know is he's our coach now."
Brown said he had not spoken to his players about his future career plans.
"All my players ever ask is how I'm feeling," Brown said. "They know I want to coach, that's what I do. Could you imagine me not coaching?"
Brown went on to lecture the media about diverting attention away from the Pistons-Heat series.
"Now I heard there was 'two league sources,' " Brown said of the ESPN report. "Who are the league sources? Why would somebody write that instead of being up front and saying who it is? Why would you do that?"
Local journalism is essential.
Give directly to The Spokesman-Review's Northwest Passages community forums series -- which helps to offset the costs of several reporter and editor positions at the newspaper -- by using the easy options below. Gifts processed in this system are not tax deductible, but are predominately used to help meet the local financial requirements needed to receive national matching-grant funds.
Subscribe to the sports newsletter
Get the day's top sports headlines and breaking news delivered to your inbox by subscribing here.
---