News > Nation/World
France's Raffarin quits after EU vote
Wed., June 1, 2005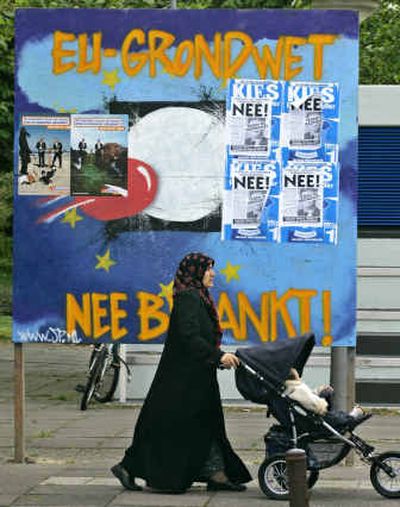 PARIS – French Prime Minister Jean-Pierre Raffarin resigned Tuesday and President Jacques Chirac replaced him with Dominique de Villepin as aftershocks continued from the country's rejection of a new European Union constitution.
French voters on Sunday showed their dissatisfaction with Chirac's government and the constitution.
The constitution was intended to simplify the process of running an expanded union, now made up of 25 independent nations. When leaders were mapping out a path for a proposed European constitution, votes in France and the Netherlands – charter members and longtime advocates of the European Union – were seen as places to prove that unity was growing.
Now, after French voters defeated it Sunday 55 to 45 percent, and as Dutch voters go to the polls today appearing to be even more strongly opposed, it looks as if the constitution is crippled. British Prime Minister Tony Blair reportedly might scrap a constitution vote that had been planned for 2006.
Raffarin had been the point man in the government's support of the constitution and was blamed for its defeat. Immediately after, French news media said he was too weak to be an effective leader, especially because recent polls had shown his approval rating dipping to around 25 percent.
In a televised speech Tuesday, Chirac told the nation that fear of unemployment and instability – thought to be primary reasons behind the defeat of the constitution – should be overcome.
"We are capable of winning the war of employment all while remaining true to ourselves," he said.
He added that Villepin "knows that France has the capacity, if given the means, to be strong, while remaining loyal to its republican traditions and loyal to its social contract."
Villepin is mostly known in the United States for his criticism during the buildup to the Iraq war. Before the invasion of Iraq, Villepin was France's foreign minister.
France isn't the only European nation with troubles. In Germany, Chancellor Gerhard Schroeder recently called for a national election in 2006, a year before it was scheduled, after his Social Democrat party was defeated soundly in elections in its stronghold state, the equivalent of a Republican sweep in Massachusetts.
Local journalism is essential.
Give directly to The Spokesman-Review's Northwest Passages community forums series -- which helps to offset the costs of several reporter and editor positions at the newspaper -- by using the easy options below. Gifts processed in this system are not tax deductible, but are predominately used to help meet the local financial requirements needed to receive national matching-grant funds.
Subscribe now to get breaking news alerts in your email inbox
Get breaking news delivered to your inbox as it happens.
---