Sports
Saved by the Bell? Royals find new hope
Wed., June 1, 2005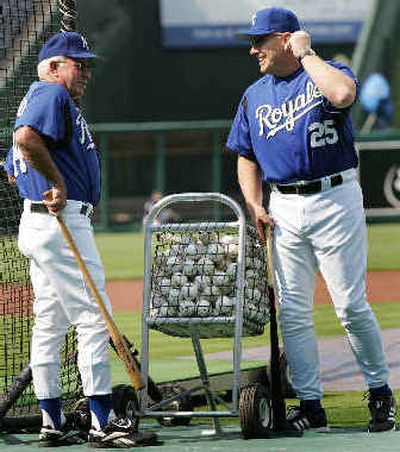 KANSAS CITY, Mo. – Buddy Bell faces a daunting rebuilding project with a team that could be headed for record losses, and he's promising no quick turnaround for the Kansas City Royals.
Bell took over the 13-37 Royals on Tuesday, with his first game against the New York Yankees. He was given a contract only through 2007, even though returning the Royals to respectability could take longer.
"I really don't think the length of the contract has anything to do with the situation here," said Dan Glass, president of the Royals and son of owner David Glass.
"If he performs well and we all perform well and give him the ammunition he needs from the front office standpoint, we'll all be in good shape. Two and a half years in today's baseball world is a long time."
Bell met David Glass' insistence that the new manager have previous major league managerial experience. Bell replaces Tony Pena, who resigned on May 10.
"It's going to take some time to figure this out," Bell said in a news conference at Kauffman Stadium. "Right now we are looking for small victories."
Bell, a five-time All-Star third baseman, was bench coach with the Cleveland Indians. He takes over a struggling franchise that hasn't made the postseason since winning the 1985 World Series and is on pace to have one of the worst seasons in modern baseball history.
"We're very excited about this," general manager Allard Baird said. "He has patience but is extremely demanding."
Bell will need patience.
"He loves to teach baseball," said Clint Hurdle, the Rockies hitting coach who took over as manager when Bell was fired by Colorado in 2002. "He's well aware of the situation there. All your major league experience in the past prepares you for the future, and I think it's a good fit."
The 53-year-old Bell managed at Detroit in 1996-98 and Colorado in 2000-2002, compiling a record of 345-462. He is the first Royals manager in about two decades with previous experience as a major league skipper.
Local journalism is essential.
Give directly to The Spokesman-Review's Northwest Passages community forums series -- which helps to offset the costs of several reporter and editor positions at the newspaper -- by using the easy options below. Gifts processed in this system are not tax deductible, but are predominately used to help meet the local financial requirements needed to receive national matching-grant funds.
Subscribe to the sports newsletter
Get the day's top sports headlines and breaking news delivered to your inbox by subscribing here.
---