News > Nation/World
Bomb kills anti-Syrian writer in Lebanon
Fri., June 3, 2005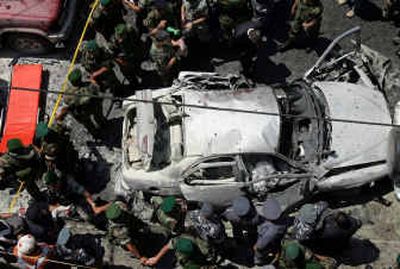 CAIRO, Egypt – A prominent Lebanese journalist known for his unflinching anti-Syria columns was killed Thursday when a bomb planted inside his car exploded near the heart of downtown Beirut.
The assassination of Samir Kassir unnerved Lebanon just days after a monthlong series of parliamentary elections got under way. The legislative polls have been billed as Lebanon's first exercise in unfettered voting after 30 years of Syrian domination and civil war.
The slaying was the first attack on a prominent anti-Syria Lebanese figure since the February killing of former prime minister Rafik Hariri. The mass demonstrations that followed Hariri's death, bolstered by international pressure, forced Damascus to remove its soldiers from Lebanon this spring and relinquish all visible political control over Beirut. No one immediately claimed responsibility. But hours after Kassir's death, anti-Syria politicians called for the resignation of Lebanese president Emile Lahoud. A faithful ally to Syria, Lahoud has managed to cling to his job despite the political earthquake that rocked Lebanon in recent months.
"The response to this new crime should be … the resignation of the president as the effective head of the security and intelligence regime," said a statement released to reporters after the opposition meeting.
Pressure against Lahoud, whose spokesman called the attack a "grave incident," had already been building. Key leaders such as Druze chieftain Walid Jumblatt and Saad Hariri, who has emerged as the political heir to his slain father, had called for the president's dismissal before Thursday's attack.
In the months since a massive bomb killed Hariri in downtown Beirut, a series of smaller explosions have struck the city and its suburbs. At least three people were killed and dozens wounded in those attacks, which were also generally targeted at Christian neighborhoods but occurred at odd hours of the night and early morning when fewer people were about.
Thursday's explosion brought the violence back into the daylight hours, and into the bustling city center.
Kassir, 45, had just walked out of his home and slipped into his Alfa Romeo when the bomb went off.
Local journalism is essential.
Give directly to The Spokesman-Review's Northwest Passages community forums series -- which helps to offset the costs of several reporter and editor positions at the newspaper -- by using the easy options below. Gifts processed in this system are not tax deductible, but are predominately used to help meet the local financial requirements needed to receive national matching-grant funds.
Subscribe now to get breaking news alerts in your email inbox
Get breaking news delivered to your inbox as it happens.
---