News > Business
China goes compact
Fri., June 3, 2005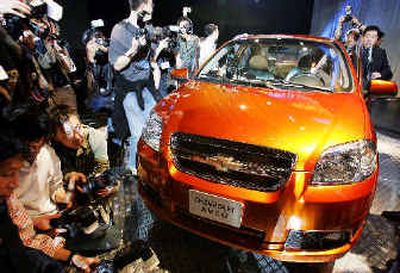 SHANGHAI, China — On the jam-packed elevated highways of China's commercial capital, the big sedans that once dominated the local car market are sharing lanes with a growing number of compact upstarts.
Boxy Volkswagen Santana sedans and sleek black Buick Regals made by joint ventures between foreign automakers and Chinese companies still far outnumber the economy models on local roads, but that's fast changing. Demand is shifting away from big sedans long favored by government buyers and the upwardly mobile to economy models popular with families getting their first cars.
New entrants — both homegrown and Chinese-foreign joint ventures — are giving serious competition to established joint ventures such as those of General Motors Corp. and Volkswagen AG. Profits are sliding, thanks to price wars and rising costs. Volkswagen, whose flagship product in China is not the Beetle but the mid-sized, four-door Santana, saw its operating profit in China more than halved in 2004 to $280 million.
Cutbacks on government vehicle buying and lending for auto purchases are prompting Chinese car buyers who might otherwise have splurged on a pricier status symbol to opt for more affordable models. Now that it's ordinary buyers, not bureaucrats, who dominate the market, smaller cars are attractive, given incomes that average just over $1,000 a year. And with gas prices averaging $1.60 a gallon and tightening government fuel efficiency standards, compact cars are a more logical choice for small families.
The three top-selling models in China during the first four months of the year were all economy models, according to the China Automobile Manufacturers Association: the Elantra, from South Korean carmaker Hyundai Motor Co.; Tianjin FAW Xiali Automobile Co.'s TJ7101U — an angular compact— and Chery Automobile Co.'s perky little QQ mini-car. Japanese automaker Honda, which introduced the Fit compact car last September, saw 20 percent growth in sales in the first four months of the year.
The upstarts build suitable small cars at reasonable prices, said Yale Zhang, an auto market specialist for consulting firm CSM Asia Corp. in Shanghai. A QQ sells for $4,800 to $5,400, while the cheapest Santanas sell for between $10,000 and $12,000. He added that makers were boosted by the recent introduction of new models to meet increased demand for economy models.
According to January to April figures compiled by CSM, Beijing Hyundai's sales soared 132 percent from a year earlier; Tianjin FAW Xiali, which makes the TJ7101U, saw sales shoot up 44 percent and Guangzhou Honda's sales climbed 51 percent.
By contrast, GM's joint venture with Shanghai Automotive Industry Corp. — which makes Buicks, Chevys and Cadillacs — was down 23 percent and Shanghai VW, Volkswagen's 20-year-old venture with SAIC saw sales plunge 61 percent.
"This should continue for some time," Zhang said. "Private demand for small, family cars is pretty stable."
GM acknowledged the changing market when it announced in February a new series of small and mid-size Chevrolets aimed at the market of under-40 young professionals buying their first cars.
GM went even further Thursday when it announced its joint venture, SAIC-GM-Wuling Automobile Co., will purchase a former automobile plant in Qingdao to increase production of mini-vehicles.
Local journalism is essential.
Give directly to The Spokesman-Review's Northwest Passages community forums series -- which helps to offset the costs of several reporter and editor positions at the newspaper -- by using the easy options below. Gifts processed in this system are not tax deductible, but are predominately used to help meet the local financial requirements needed to receive national matching-grant funds.
Subscribe now to get breaking news alerts in your email inbox
Get breaking news delivered to your inbox as it happens.
---