A&E > Entertainment
European gadget maker seeks U.S. sales
Fri., June 3, 2005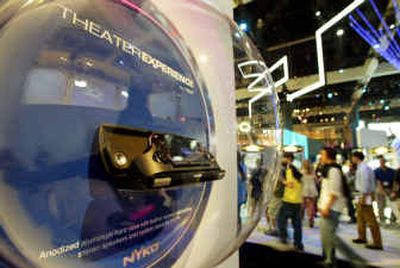 It can take the country by storm with its games. But can Take 2 Interactive, home of Rockstar Games and "Grand Theft Auto," win us over with its hardware accessories?
That's the question as its hardware company, Joytech, makes the leap across the pond. It's the leading maker of game accessories in Europe, but it has never sold much in the United States.
Two products really caught my eye at the recent Electronic Entertainment Expo trade show: an 8-inch widescreen-style monitor designed to hook up to a PlayStation 2, and the AV Control Center 240, a slim stereo system component that easily organizes the inputs from all your gaming systems, DVD players, CD players and whatnot.
The monitor, which retails for $150, was lovely, a solid black screen with a nice-quality display, designed to match the size of the newer, smaller PlayStation 2 and fold flat against the console when it's not in use. Total size of both the monitor and the PS2 when folded: about that of a Stephen King hardcover.
The AV Control Center 240 includes six component video plugs (for high-definition viewing), seven S-Video inputs, a pile of digital audio ports, a built-in computer hub for splitting your Internet connection between consoles or your TiVo and a remote control for switching between sources and sending them to your TV. It retails for about $90, which sounds like a lot but actually works out to be a bargain for what you get.
See www.joytech.net for the full product line.
PSP stands are outstanding
All the usual accessories for Sony's PlayStation Portable – headphones, chargers and the like – were on display at the expo. Two products stood out, though, and both were stands.
Nyko's Theater Experience acts as a case for the PSP, recharging it as you play. But it also has an adjustable bracket to hold the PSP at the angle you want – perfect for watching movies. And it has two built-in speakers, which sounded pretty darned decent.
It'll be available this summer for $79.99. Check out www.nyko.com.
The other neat stand for the PSP was more oriented toward its role as a music player. Hip Gear's Stereo Station + suspends the PSP above a heavy ring-shaped foot of speakers. It acts as a charger, puts the PSP (again, at a comfortable angle) up where you can cycle your songs quickly and folds flat for storage. The stand is on the market now and sells for about $50. See www.hipgearproducts.com.
Hardware hard to resist
Other cool hardware at the expo:
There were several new PCs and laptops that offer Intel's new Pentium D processors, which are rather like two computer chip brains in one. They're quite a bit more expensive than your standard Pentium line processors, but they can significantly up the speed of complex tasks like video editing, manipulation of 3-D graphics and gaming. Dell and Alienware announced new desktops PCs featuring them.
One of the coolest gaming-nerd collectibles before or at the show: Master Replicas' Darth Vader Force FX Lightsaber, a replica of the red lightsaber Vader sports in the "Star Wars" movies.
Not only does it have the realistic red light encased in a plastic-and-glass tube, but it also has some very familiar sound effects triggered by motion as you wave the lightsaber or use it to whack on things. (Not recommended, according to the press materials, but irresistible.)
Pure quality like this doesn't come cheaply, folks: The Lightsaber comes with a stand and sells for about $120. But what price would you pay for the ability to turn on your saber with a satisfying "whoommpsh" and yell, "Luke, I am your father!" while you wave it in front of your bemused family? I thought as much.
Local journalism is essential.
Give directly to The Spokesman-Review's Northwest Passages community forums series -- which helps to offset the costs of several reporter and editor positions at the newspaper -- by using the easy options below. Gifts processed in this system are not tax deductible, but are predominately used to help meet the local financial requirements needed to receive national matching-grant funds.
Subscribe to the Spokane7 email newsletter
Get the day's top entertainment headlines delivered to your inbox every morning.
---