News > Idaho
Schoolkids rendezvous with history
Fri., June 3, 2005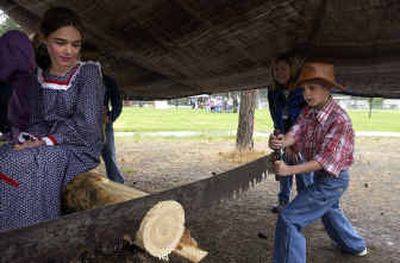 Mike Inman assumed the role of a medic from the 1880s and whipped out a corkscrew- looking instrument called the "tooth key."
Students cringed, perhaps imagining the pain of a Fort Sherman-era extraction.
"I'd give ya a little shot of morphine or whiskey afterward," Inman said, twisting his wrist to illustrate how he'd pull a tooth.
"Afterward?" one of the students asked incredulously, as Inman brought out other tools from the medicine chest of yesteryear: Bullet probes, a skull drill and a small saw once used for amputations.
Idaho history was brought to life at Post Falls' Ponderosa Elementary on Thursday as Inman, dressed in vintage military style, and others treated the students to a glimpse into their state's past.
Students cooked cake in cast iron pots, shot arrows, met mountain men, made quilt squares and watched as cowboys rode horses through the playfield, shooting blanks at red balloons.
An occasional blast from a cannon shook the quiet neighborhood and rifle shots echoed, drowning out the sounds of children at recess on the nearby playground.
The fourth-graders dressed up for the annual Rendezvous celebration. Some girls wore long prairie skirts that skimmed the wet grass as they walked. Others had Indian headdresses and coonskin caps.
Tyler Christiensen painted his face to look like soot and made a miner's hat out of yellow construction paper.
"It was the easiest thing I could do," he said as he pieced together squares of reproduction fabric at the quilting station. In past years, students used needle and thread to make quilt squares. This year, they got to experience a more modern way of quilting, laying squares atop fusible webbing and having an adult iron their design together.
The mother in charge of the quilting station said she decided to get rid of the needles and thread after last year's experience of threading and rethreading a hundred needles through the course of the day.
Teacher Sharon Wagner said the annual event used to be called Pioneer Days and was held at a nearby park. Though the event has changed some over the years, Wagner said it's always had the same goal of helping students learn about Idaho history, a state requirement for fourth-graders.
Wagner's husband, Paul, demonstrated how to make cedar shake roof shingles and how to cut a log with a crosscut saw.
A cowboy and a student, wearing a plastic headband with two raccoon tails hanging from the sides, struggled to saw the end off a log. After a couple of minutes, the big teeth of the saw had only chewed through a fraction of the wood.
Paul Wagner said the crosscut saw is also known as a "misery whip."
"They learn how hard it used to be to be a pioneer," he said, "but they seem to enjoy it the first couple of minutes."
Local journalism is essential.
Give directly to The Spokesman-Review's Northwest Passages community forums series -- which helps to offset the costs of several reporter and editor positions at the newspaper -- by using the easy options below. Gifts processed in this system are not tax deductible, but are predominately used to help meet the local financial requirements needed to receive national matching-grant funds.
Subscribe now to get breaking news alerts in your email inbox
Get breaking news delivered to your inbox as it happens.
---