News > Business
Worldwide connections
Fri., June 3, 2005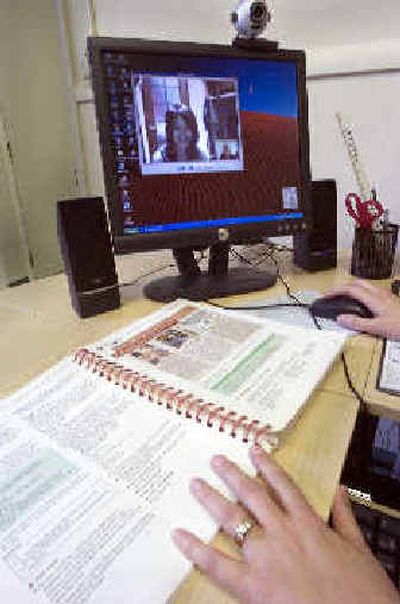 Lisa Nieboer relocated her English-language school from Australia to Spokane three weeks ago, moving one Dell computer, a desk and some shelves into a tiny office at the Spokane Airport business park.
It was an immense geographic shift, covering 16 time zones. But Nieboer, who started BeGlobal Enterprises a year ago in Australia, said the change had hardly any impact on her students, all of whom are in Japan.
The major disruption has been her slow adjustment to West Coast time. "I must still be operating on Melbourne time," said the 37-year-old Nieboer. "I'm feeling a bit exhausted."
Nieboer typifies small Inland Northwest companies that have adopted technology and broadband Internet connections to conduct business with customers anywhere in the world.
"Three years ago I couldn't do this kind of work, but the technology has moved so fast," said Nieboer. She still employs two online instructors working in Australia, who like her, teach business and conversational English to students who live in Japan.
The company was launched in Melbourne while she lived there with her husband, Geoff Nieboer. An Air Force major, Geoff Nieboer transferred to Fairchild Air Force Base this year.
While BeGlobal represents a small example of well-connected businesses working effectively in Spokane, there are also large companies in the area using technology the same way, said Bill Kalivas, executive director of Spokane's Connect Northwest program.
"We have a low cost of living, and an incredibly rich digital infrastructure here," said Kalivas. He pointed to Coeur d'Alene-based Nighthawk Radiology as an example of a large firm here using high-speed networks to do business globally.
Nighthawk has more than 30 certified radiologists working in Australia and Europe, providing overnight diagnoses for hospitals and doctors in the United States.
Nieboer now teaches about four or five classes a day to customers in Japan. Her students are mostly young adults, some of whom are boning up on English before attending college and others who are improving their conversation skills.
BeGlobal also offers courses in business English, primarily for Japanese workers.
"We're a very small fish over there" in Japan, compared with other online, English-language instruction companies, Nieboer said.
What's working in her favor is the company's flexible schedule, she said; students have freedom to choose when to take classes from their homes.
Classes cost between $30 and $35 an hour depending on the level of English being taught. Students have to buy textbooks. They also need a broadband Internet connection, but Japan has a large percentage of homes with access to that technology, Nieboer noted.
Most of her students sign up for open-ended conversation classes, scheduling one or two sessions each week. Nieboer doesn't require them to sign contracts. Payments are made via credit card.
The flexibility comes from having two Australian instructors who are on the same hours as the company's customers in Japan. Nieboer's work schedule is from 2 p.m. to 11 p.m. Pacific time, covering early morning and afternoon courses requested by Japanese residents.
During a late-afternoon class this week, she and a 20-year-old woman named Sachie Takahira spent 60 minutes conversing. Takahira, a department store worker in Tokyo, found BeGlobal through a Google search.
Nieboer's style is to keep the conversation easy and relaxed, punctuated by laughter and frequent questions. The two chat in English, although Nieboer, who studied Japanese and taught English in that country, will converse in Japanese with students outside of class sessions. Throughout the class, both teacher and student sit in front of computers, wearing headphones and microphones. A video camera perched on their computers lets Nieboer and Takahira watch each other during the class.
As the class with Takahira ends, Nieboer checks when they'll hold their next session. They then say goodbye and Takahira leaves for her morning commute to work.
Nieboer and her husband talked about starting BeGlobal for several years before moving ahead with the idea in Australia in early 2004.
"I always wanted to create a company that helps link people from around the world," Nieboer said. Eventually it became obvious that teaching English was her strength.
Even so, her goal is to broaden the company to teach other languages. "Down the road our plan is to grow by employing other native language professionals and offering language classes," she said.
Her short-term goal is to hire new instructors, both here and in Australia. The likely source for those teachers will be Mukogawa Fort Wright Institute and area colleges, Nieboer said.
Local journalism is essential.
Give directly to The Spokesman-Review's Northwest Passages community forums series -- which helps to offset the costs of several reporter and editor positions at the newspaper -- by using the easy options below. Gifts processed in this system are not tax deductible, but are predominately used to help meet the local financial requirements needed to receive national matching-grant funds.
Subscribe now to get breaking news alerts in your email inbox
Get breaking news delivered to your inbox as it happens.
---