Sports
Briefly
Sat., June 4, 2005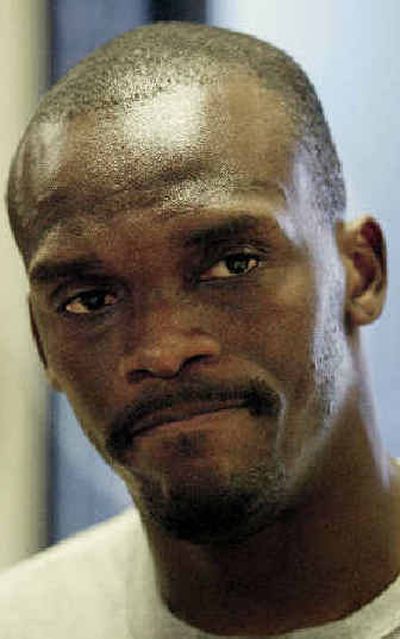 Isaac Bruce was held out of the St. Louis Rams minicamp Friday because of an irregularity in a heart test.
"His physical showed just a slight abnormality," coach Mike Martz said. "He had a little glitch."
After watching the first of two workouts, Bruce said he believed the test was a mistake. He underwent a second test later in the day, although Martz said a specialist who normally administers such tests was out of town until Tuesday, which would sideline Bruce for the remainder of the three-day camp.
"Something funny showed up on the EKG, that's all," Bruce said. "I was a little shocked. I'm thinking something's wrong with the machine, not anything wrong with me."
Martz said the team is comfortable waiting for the specialist to return.
"When Tuesday arrives he will evaluate it, and we'll all know the story," Martz said.
The 32-year-old, 12-year veteran was second on the team last season with 89 catches for 1,292 yards and six touchdowns. He is third among the NFL's active receivers with 11,753 yards, including seven 1,000-yard seasons.
He suggested that perhaps a blood test might have spiked his heart rate and said he wasn't concerned.
"I don't anticipate me stopping playing or anything like that," he said. "I'm feeling good. I learned a long time ago not to let a doctor's diagnosis deter me."
•Rick Spielman has left the Miami Dolphins after five seasons helping oversee their personnel moves after he became increasingly irrelevant with new coach Nick Saban having complete control over the roster.
Spielman was promoted to general manager before last season, his fifth helping guide the team's personnel decisions.
•The San Francisco 49ers and offensive lineman Eric Heitmann agreed to terms on a four-year contract extension.
The Niners also released offensive tackle Scott Gragg, who joined the team as a free agent in 2000. Gragg is a former All-American for the Montana Grizzlies and was a second-round NFL draft pick out of Montana in 1995.
•Kick returner Chad Morton was released by the Washington Redskins in a move that will save $540,000 in salary-cap space.
Morton, who injured his right knee last season, could be the first of several post-June 1 cuts as the Redskins try to clear room under the salary cap to sign their draft picks.
•Troubled former Southern California and NFL quarterback Todd Marinovich, 35, was ordered into a six-month drug rehabilitation program in Santa Ana, Calif., to be followed by six months of outpatient treatment for violating terms of his probation.
Marinovich was first arrested on drug charges in January 1991 while attending USC. He was a first-round draft choice of the then-Los Angeles Raiders later that year, and played with them for two seasons before being released.
Marinovich later played football in Canada and for the Los Angeles Avengers of the Arena Football League, leaving that team in 2001 after being arrested on suspicion of heroin possession.
He was also arrested on drug charges in 1997 and last August, when he was caught skateboarding in a prohibited area carrying methamphetamine.
Softball
UCLA beats Tennessee
Anjelica Selden struck out 10 and allowed six hits, leading UCLA to a 3-1 victory over Tennessee at the NCAA College World Series in Oklahoma City.
Emily Zaplatosch had a two-out single in the bottom of the first inning to end Tennessee pitcher Monica Abbott's streak of scoreless innings at 43.
In the second game, top-ranked Michigan blanked Texas 4-0.
Basketball
Georgia gets scholarships back
The NCAA gave Georgia a rare hoops victory, restoring three men's basketball scholarships that were taken away following the scandal that took down coach Jim Harrick.
Initially, the Bulldogs were stripped of one scholarship for each of the 2005-06, 2006-07 and 2007-08 seasons as part of their four-year probation.
The school agreed that wrongdoing occurred under Harrick but appealed the seriousness of the penalties, which also included four years' probation.
Horse racing
Baze rides 9,000th winner
Russell Baze has become thoroughbred racing's second jockey to reach 9,000 victories.
The 46-year-old Hall of Famer recorded the milestone Thursday when he rode Queen of the Hunt to a wire-to-wire victory in the eighth race at Golden Gate Fields in Albany, Calif. Only retired Hall of Famer Laffit Pincay Jr., has more wins, with 9,530.
•The strangles scare at Belmont Park in New York appears to be over. Lady Libby, the filly suspected of having the respiratory disease strangles, had a different bacterial infection that produced symptoms similar to the contagious illness.
Local journalism is essential.
Give directly to The Spokesman-Review's Northwest Passages community forums series -- which helps to offset the costs of several reporter and editor positions at the newspaper -- by using the easy options below. Gifts processed in this system are not tax deductible, but are predominately used to help meet the local financial requirements needed to receive national matching-grant funds.
Subscribe to the sports newsletter
Get the day's top sports headlines and breaking news delivered to your inbox by subscribing here.
---