News > Idaho
Project CDA senior up for military challenge
Sat., June 4, 2005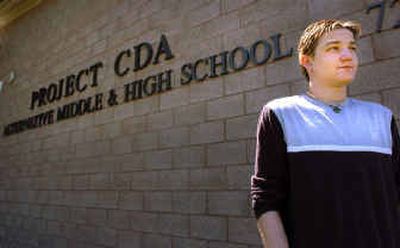 William Gradeless, 18, a senior at the alternative school, Project CDA, doesn't believe in handouts. His strength of character will serve him well, as he plans to enter the United States Air Force.
"I'm more of an independent person, I don't like to get handouts from anybody, so I wanted to do something for myself and be able to actually work for my own college," Gradeless said. "I'm mostly thinking about college and careers that I can take when I get out of the Air Force."
Gradeless and his family, mom Dawn Gradeless, an oncologist at Kootenai Medical Center, and father, Charles Gradeless, a property manager, moved to Coeur d'Alene three-and-a-half-years ago from Arizona, because they found 10 acres on Kidd Island Bay and loved it. He has attended Project CDA for his junior and senior year.
After he graduates Thursday with 74 others in his class, he plans to go to Arizona to say goodbye to old friends and family before entering the delayed-entry program, where the Air Force gives the recruits job options of their choice. He expects to be on the job by July 15 starting with basic training in San Antonio at Lackland Air Force Base.
He said he's been doing "basic pushups" to get ready, and to the best of his knowledge he's in good shape. He played hockey for a while, and hurt his knee, but he thinks he'll be just fine.
He admits he is a little worried about a potential draft, but, with his interest in either becoming a jet propulsion engineer or biomedical engineer, his hopes are to leave the Air Force with his college degree and use the GI bill to further his education. His interest in biomedical engineering has been nurtured by his mother and her work with cancer patients.
"I just want to be an independent person," Gradeless said. "I chose the Air Force because it is a safer service. If I'm already in the service I can't be drafted into the Army or Marines."
He said he has no desire to be a pilot, but is very interested in learning how to take aircraft apart and fix them.
His parents are supportive of his decision, and his mom helped him investigate his options. He has a cousin in the Army who is in Iraq. His dad was in the service for a short time, but it wasn't something he was really interested in. He is supportive of his son, because he realizes now that if he had stayed in the service he'd have more to show for his efforts, such as retirement benefits.
Gradeless will be enlisted for four years of active duty, then four more of inactive duty. The clock starts ticking as soon as he starts basic training.
Currently Gradeless sports a hip, spiky hair style. When asked if he's concerned about losing his "do," he doesn't give it a second thought.
"It doesn't bother me. Hair is hair," he said. "I'll probably just shave it before I go."
He will also have to lose the one earring he wears in his left ear. Again, no big concern.
William said his friends at Project CDA think he's nuts for entering the service, but he points out that they haven't done the research. He isn't leaving behind a girlfriend or fluffy pet, just his pet snake, which he says will be well taken care of by his mom.
"She loves it," he said.
He is only allowed to bring one change of clothes, a roll of quarters and hygiene products to basic training. Everything else is provided by the Air Force.
Having been in ROTC in the ninth grade in Apache Junction, Ariz., Gradeless said he is used to discipline. He is up for the challenge.
Local journalism is essential.
Give directly to The Spokesman-Review's Northwest Passages community forums series -- which helps to offset the costs of several reporter and editor positions at the newspaper -- by using the easy options below. Gifts processed in this system are not tax deductible, but are predominately used to help meet the local financial requirements needed to receive national matching-grant funds.
Subscribe now to get breaking news alerts in your email inbox
Get breaking news delivered to your inbox as it happens.
---