News > Business
Core changes
Tue., June 7, 2005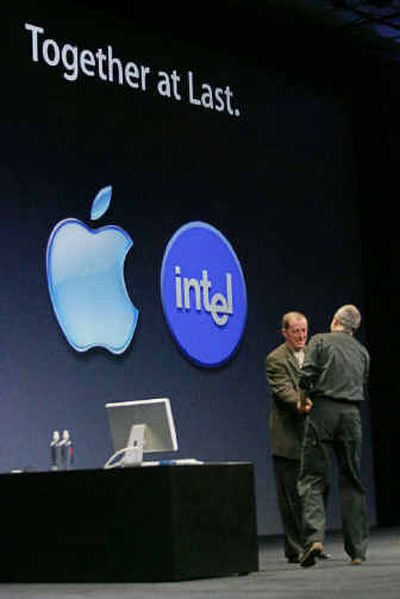 SAN FRANCISCO — After years of touting its Macintosh computers as superior alternatives, Apple Computer Inc. said Monday that it would switch to the very Intel microprocessors that power machines designed to run Microsoft Windows.
Though the long-rumored transition will help the Mac compete against Windows PCs in performance and — potentially — price, the move poses big challenges for Apple, its software developers and users. In fact, past Mac chip changes have led to significant market share losses.
Apple now must persuade current users and potential buyers that today's Macs will not become the technology equivalent of lame ducks. And it must get software companies to develop programs that work on both the Macs of today and of tomorrow.
In a speech to software developers Monday, Apple CEO Steve Jobs admitted the change will not be fast or easy. The first Intel-based Macs won't appear until June 2006, and the full product line won't shift to Intel until the following year, he said.
"This is not going to be a transition that happens overnight," Jobs said. "It's going to happen over a period of a few years."
Shares of Apple closed at $37.92, down 32 cents, in Monday trading on the Nasdaq Stock Market. Intel shares lost 16 cents to close at $27.17.
Jobs also announced the immediate availability of a "transition kit" for programmers and said Apple would offer software that translates programs written specifically for the older chips to run on Macs with Intel inside.
Jobs revealed that Apple has been working on the move for at least five years, creating two separate versions of its critically acclaimed Mac OS X operating system for both the current Mac chips and those built by Intel.
"Mac OS X has been leading a secret double life," he said.
Two major Mac software makers — Adobe Systems Inc. and Microsoft Corp. — announced that they would support Macs running the new hardware. Roz Ho, general manager of Microsoft's Macintosh Business Unit, said its Office productivity suite would work on current and future Macs.
But the announcement did not address how Apple would keep Mac OS X from running on non-Apple computers. The appearance of cheaper clones could hurt Apple sales.
It's also not clear whether the move might make Macs more vulnerable to attacks by viruses and other malware. To date, they've been mostly exempt.
In making the move, Apple is abandoning a processor known as the PowerPC that it developed with International Business Machines Corp. and Motorola Inc. in the 1990s to compete against Intel's x86 architecture and which it touted as more powerful.
On Monday, Apple did not specify the exact Intel chips it plans to use. Jobs did say that Intel's focus on power management, crucial to extending battery life on portable computers, was as important as performance in the decision.
The switch ends years of squabbling between Apple and its chip suppliers, IBM and Freescale Semiconductor Inc., which was spun off from Motorola last year.
When Motorola was the primary supplier of G4 chips for Macs, Apple grew frustrated with the rate of improvement. In 2002, it signed a deal with IBM to provide advanced chips for its high-end desktop computers, the Power Mac G5.
But the IBM-Apple deal was rocky almost from the start.
Jobs said Macs would top 3 gigahertz in processing speed by the end of last year, but IBM could not deliver. The IBM chips also were scarce for desktop computers and nonexistent for notebooks, which by some measures have now begun to outsell PCs in the United States.
They simply ran too hot and consumed too much electricity for portables.
Local journalism is essential.
Give directly to The Spokesman-Review's Northwest Passages community forums series -- which helps to offset the costs of several reporter and editor positions at the newspaper -- by using the easy options below. Gifts processed in this system are not tax deductible, but are predominately used to help meet the local financial requirements needed to receive national matching-grant funds.
Subscribe now to get breaking news alerts in your email inbox
Get breaking news delivered to your inbox as it happens.
---