Sports
Ex-GU, CCS standout dies unexpectedly
Tue., June 7, 2005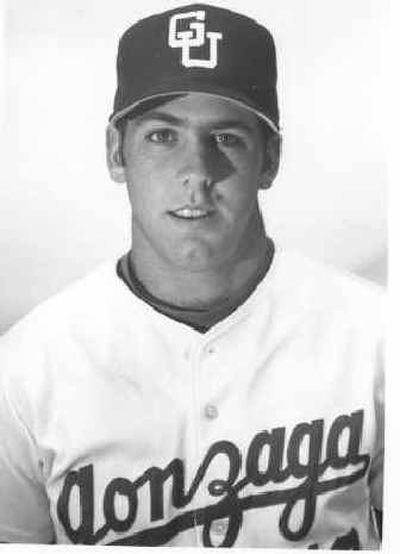 Former Gonzaga University and Community Colleges of Spokane baseball player Erik Hanson died last Friday in San Mateo, Calif., of apparent natural causes.
Steve Hertz, director of athletic relations and former head baseball coach for the Bulldogs, said he spoke to both of Erik's parents on Monday.
"They are quite shaken," Hertz said. "They don't know the cause of death at this time, but it appears to be from natural causes."
Hanson, a graduate of Bellevue (Wash.) High, played for the Bulldogs in the 1992 and 1993 seasons after two seasons at CCS. As a senior in '93 he led the team with a .333 batting average, playing in all 53 games with 52 starts primarily in right field. His 64 hits and 10 home runs paced the team, his 41 RBIs were second and his 13 doubles tied for the team lead. He had a .568 slugging percentage. He was a second-team All-Pacific-10 Conference North outfielder.
As a junior in 1992 he played in 45 games with 39 starts, including starting 29 of the final 30 games. He hit .307 while seeing action in the outfield and as a designated hitter. He had 24 RBI, a pair of home runs – one a grand slam – and six doubles.
Hanson played third base for CCS as a freshman in 1990, hitting .370. The following season he hit six home runs and drove in 32 runs for the Sasquatch.
He lettered three years in baseball, one in football and two in golf at Bellevue High. As a senior he hit .410 and was 6-0 on the mound in earning All-KingCo first-team honors. He also played Senior Babe Ruth baseball, earning team MVP and Western Regional MVP honors.
Hanson was born March 8, 1971. Among the survivors are his father, Ron of Bellevue, his mother Bonnie Black and sister Kristi Rhodes both of whom reside in California.
Funeral services will be held Thursday at 11 a.m. at St. Gregory's Church in San Mateo.
The family requests memorials be made to the GU Baseball Stadium Project.
Local journalism is essential.
Give directly to The Spokesman-Review's Northwest Passages community forums series -- which helps to offset the costs of several reporter and editor positions at the newspaper -- by using the easy options below. Gifts processed in this system are not tax deductible, but are predominately used to help meet the local financial requirements needed to receive national matching-grant funds.
Subscribe to the sports newsletter
Get the day's top sports headlines and breaking news delivered to your inbox by subscribing here.
---