News > Business
Lea Fastow in halfway house after her release from prison
Tue., June 7, 2005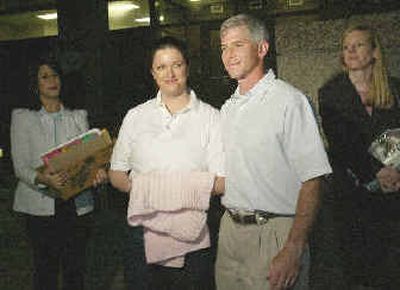 HOUSTON — The real estate and grocery heiress married to former Enron Corp. finance chief Andrew Fastow is beginning her life outside of prison.
Lea Fastow left an 11-story federal lockup in downtown Houston before sunrise Monday to move into a halfway house where she will serve the last few weeks of her yearlong prison term for failing to declare her husband's illegal kickbacks as income.
"It's supposed to be a tough year," she said as she left the prison flanked by her husband, sister and lawyers. "I'm going home to my family soon, and that's exactly what I'm looking forward to."
She arrived minutes later at the Leidel Comprehensive Sanction Center a few blocks from the federal detention center, said her attorney, Mike DeGeurin. Lea Fastow entered prison July 12, 2004, and is scheduled to be released July 10.
"There is no special treatment," DeGeurin said. "She is not getting any early release, and she is being treated like everyone else."
Tracy Billingsley, a spokeswoman for the Federal Bureau of Prisons, said it's common for federal inmates to finish their sentences in halfway houses, particularly nonviolent first-time offenders.
Andrew Fastow is to be sentenced in June 2006. He also is expected to be a key witness in the January conspiracy and fraud trial of Enron founder Kenneth Lay, former CEO Jeffrey Skilling and former top accountant Richard Causey.
Local journalism is essential.
Give directly to The Spokesman-Review's Northwest Passages community forums series -- which helps to offset the costs of several reporter and editor positions at the newspaper -- by using the easy options below. Gifts processed in this system are not tax deductible, but are predominately used to help meet the local financial requirements needed to receive national matching-grant funds.
Subscribe now to get breaking news alerts in your email inbox
Get breaking news delivered to your inbox as it happens.
---