Sports
Pistons prevail, shock Shaq
Tue., June 7, 2005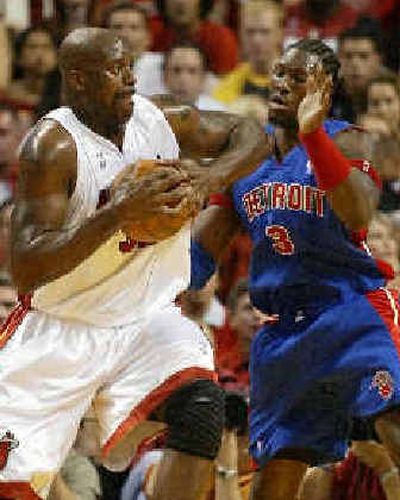 MIAMI – Larry Brown walked through the front door of the Detroit Pistons' packed locker room, scanning the celebration with his eyes aglow and his smile wide.
"Where are my guys?" Brown asked before spotting Lindsey Hunter and telling him he loved him, then working his way to Tayshaun Prince and reaching in for a hand slap.
"That's what we're all about," Brown said.
The pressure of Game 7 didn't faze the defending champions – not in the slightest.
In a deciding game that stayed close the entire 48 minutes, the Detroit Pistons summoned their experience and played with calmness and poise down the stretch to defeat the Miami Heat 88-82 Monday night in the final game of the Eastern Conference finals.
Now, it's back to the NBA Finals for the team often dismissed as a fluke champion – a disparaging label if there ever was one, but one the Pistons can shake with four wins against the San Antonio Spurs.
Dwyane Wade played for Miami after missing Game 6 because of a rib muscle injury, but he was only good for brief stretches. He finished with 20 points but didn't score over the final 15 minutes.
"I couldn't be as athletic as I wanted to be, but I did what I could do," Wade said.
Richard Hamilton scored 22 points, Rasheed Wallace added 20 – including two foul shots that put the Pistons ahead for good with 1:26 remaining – and Detroit closed the game with a 10-3 run to hand Miami yet another heartbreaking Game 7 loss on its home floor.
"That's what we do!" Hamilton yelled in a jubilant locker room, repeating the phrase over and over, even after he headed to the showers.
Detroit won for the 10th straight time when needing one victory to clinch a series, the second longest such streak behind the Lakers' record 12-game run that ended in 2004. The Pistons also became the first team to win an Eastern Conference finals Game 7 on the road in 23 years. They open the finals Thursday night at San Antonio.
Shaquille O'Neal led Miami with 27 points, but the Heat faltered offensively in the final two minutes – with Wade the biggest culprit when he forced up a 20-footer that missed badly with 1:13 left.
Wallace followed with a putback of Prince's miss to make it 82-79, and Detroit went 6 for 6 from the foul line the rest of the way.
Wade scored 12 points in the third quarter, but he was wincing in pain in the game's final minutes. His basket with 3:10 left in the third quarter was his last of the night.
Detroit's victory extended Brown's coaching career for at least four more games, pitting him against his good friend, Spurs coach Gregg Popovich, and another dominant big man, Tim Duncan, in the finals. The Pistons and Spurs split their season series 1-1.
"I'm thrilled. It's like a dream come true. Coming from where I come from, Coatesville, Pennsylvania, and now to get the opportunity to play for my second championship at 27, it's a great feeling," said Hamilton, who has scored 20 or more points in 16 of the Pistons' 17 postseason games.
Brown will visit the Mayo Clinic in Rochester, Minn., soon after Detroit's season ends to address a medical problem that developed after complications from hip surgery. If surgeons are not able to correct it, Brown plans to retire from coaching. Detroit got 18 points from Chauncey Billups and 13 from Prince, proving again that a team effort can be more than enough to defeat two superstars. That's what the Pistons did against O'Neal and Kobe Bryant in the NBA Finals last year, and that's what they did against O'Neal and Wade, too.
Miami led 23-21 after one quarter behind 10 points from O'Neal on 5-for-6 shooting, but the Pistons went ahead early in the second quarter and stayed in front for the rest of the half.
Local journalism is essential.
Give directly to The Spokesman-Review's Northwest Passages community forums series -- which helps to offset the costs of several reporter and editor positions at the newspaper -- by using the easy options below. Gifts processed in this system are not tax deductible, but are predominately used to help meet the local financial requirements needed to receive national matching-grant funds.
Subscribe to the sports newsletter
Get the day's top sports headlines and breaking news delivered to your inbox by subscribing here.
---