News > Spokane
Vandals hit waterpark
Tue., June 7, 2005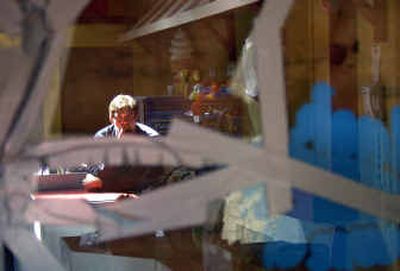 Just as owners were finishing up a new water slide and preparing for the summer season, vandals broke into Splash-Down Waterpark Friday night and caused thousands of dollars worth of damage.
"Basically, we couldn't walk in here," said park owner Geoff Kellogg, standing in the gift shop still ripe with the smell of new paint.
Broken glass, torn-up vending machines and trashed merchandise littered the shop when Kellogg showed up at Spokane Valley Mission Park at 8 a.m. Saturday.
"They painted everything they could see," Kellogg said Monday.
The slide park is insured, and about 20 friends and family members rallied to repaint walls and clean up the damage.
Some longtime season-ticket holders even stopped by to drop off sympathy notes and goodies for the owners.
As of Monday, with black and red graffiti still covering equipment in the park's pump room, a glassless display case and a cracked window were the only obvious signs of the vandalism.
"Probably by tomorrow, things will look to the average person as good as new," Kellogg said.
Aside from a vintage Ms. Pac-Man machine and two other games destroyed by the vandals, Kellogg said Splash-Down's attractions will be open during regular hours this week.
He hopes to have the new $500,000 Cannon Bowl tube slide up and running by the last day of school, which is June 17 for most Valley districts.
Police have arrested two girls and three boys – all 14 years old – on suspicion of second-degree burglary, and believe there were others involved, Spokane Valley Police Sgt. Dave Martin said.
"It's kids getting into trouble and being stupid," he said.
The vandals, who somehow got around the park's alarm system, smashed glass, spraypainted, and discharged fire extinguishers in the gift shop, office and vending area.
"All the clocks were smashed at 1:25," Kellogg said.
About $1,000 worth of Pepsi products, change from vending machines, pretzels, four gallons of milk and even a container of laundry detergent were taken.
"They came and went several times," Kellogg said.
The water slide opened in 1983 on land that was leased from Spokane County but now belongs to the city of Spokane Valley. Geoff and Melissa Kellogg bought the park in late 2003.
"It was kind of a shock, you know, when you stepped in the door it was total chaos," said Bill Bleasner, who owned the park with his wife, Ruth, before the Kelloggs took over.
He is helping install the new slide and helped clean up the mess.
Aside from people breaking into the gift shop and running off with a few things, Bleasner said, the park hadn't seen an extensive act of vandalism before Friday.
No major equipment was damaged, though, and Kellogg said he just wants to focus on the summer.
He hasn't decided whether to press charges against the arrested teenagers.
Local journalism is essential.
Give directly to The Spokesman-Review's Northwest Passages community forums series -- which helps to offset the costs of several reporter and editor positions at the newspaper -- by using the easy options below. Gifts processed in this system are not tax deductible, but are predominately used to help meet the local financial requirements needed to receive national matching-grant funds.
Subscribe now to get breaking news alerts in your email inbox
Get breaking news delivered to your inbox as it happens.
---