News > Pacific NW
Blast caused ship to sink
Thu., June 9, 2005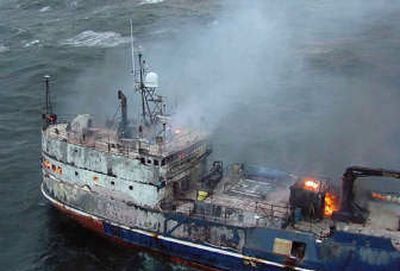 ANCHORAGE, Alaska – A back-draft explosion caused when crew members opened hatches before a fire suppression system had been activated apparently sank the fish processor Galaxy in 2002 near St. Paul Island in the Bering Sea, the Coast Guard has concluded.
Three men died in the incident. Two days later, a fourth was swept off a Good Samaritan vessel, the Clipper Express, as it searched for survivors in the icy waters.
The Coast Guard released its report on the sinking Wednesday.
The Galaxy was a 180-foot Seattle-based vessel. It was carrying a crew of 25 and an observer from the National Marine Fisheries Service when fire broke out in the engine room on the afternoon of Oct. 20, 2002, a Sunday. St. Paul Island is 750 miles west of Anchorage and almost 300 miles off the mainland.
The cause of the original fire is not known but probably started in a generator, said the Coast Guard chief investigator, Lt. Cmdr. Chris Woodley.
About four minutes passed between the start of the initial fire and the explosion. A three-man fire crew attempted to reach the fire as the chief engineer made his way to a room where carbon dioxide fire suppression could be activated, Woodley said.
The three firefighters were led by first mate Jerry Stephens.
Fighting thick smoke, Stephens – believing the fire suppression system already had been activated – ordered hatches open. That allowed oxygen to flow to the engine room and triggered the back-draft explosion, Woodley said.
Chief engineer Raul Vielma had his hand on the fire suppression controls and was seconds away from activating the system when the massive explosion rocked the boat.
All three firefighters were blown through a hatch into the Bering Sea. Two were pulled on board by shipmates, but Stephens, of Edmonds, Wash., was lost.
The rest of the crew eventually abandoned ship.
Jose R. Rodas of Pasco was pulled from the water but could not be revived. Cook George F. Karn of Renton, Wash., also was lost. Karn's remains were recovered in June 2003 on Tanaga Island, one of the Aleutian Islands.
The search in the notoriously dangerous Bering Sea was conducted in winds up to 55 mph and 20-foot seas, with freezing rain and snow.
Daniel Schmiedt of Arlington, Wash., was swept off the Clipper Express. He was wearing neither a survival suit nor a life jacket, only rain gear.
Local journalism is essential.
Give directly to The Spokesman-Review's Northwest Passages community forums series -- which helps to offset the costs of several reporter and editor positions at the newspaper -- by using the easy options below. Gifts processed in this system are not tax deductible, but are predominately used to help meet the local financial requirements needed to receive national matching-grant funds.
Subscribe now to get breaking news alerts in your email inbox
Get breaking news delivered to your inbox as it happens.
---