News > Voices
Facing life-and-death issues, CV student never wavered
Thu., June 9, 2005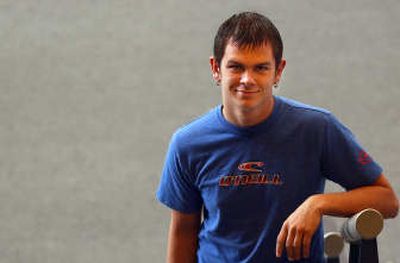 Nathan Foster's high school experience was condensed.
At the end of the Central Valley High School senior's eighth-grade year, he was diagnosed with acute myeloid leukemia.
His entire freshman year was taken up with treating the cancer, including a bone marrow transplant and the long period while his immune system recovered.
"We had to move to Seattle for about five months while I was being treated," Foster said. "After we got back to Spokane, I still had to stay home. I couldn't go anywhere where there were a lot of people gathered because my immune system was still weak."
Cancer treatments are not fun. Chemotherapy kills off the infected immune system, then new bone marrow is transplanted to start over with healthy cells.
In Foster's case, those new cells came from his sister, Natalie.
"To show you what type of a kid Nathan is, when they did the transplant, his mouth was already raw because of the chemo and he was on a morphine drip," his mother, Laurel Cameron, explained. "He was upset because he thought his sister should have been put on the drip before he was. He was worried about her and not himself."
The Fred Hutchinson Cancer Research Center and Seattle's Children's Hospital were incredibly supportive, Cameron said.
"We stayed at the Pete Gross House, and they have a school built in so that Nathan could keep up with some of his school work while we were there," Cameron said. "The whole experience just tears your family apart.
"You just go into a mode where you do what you have to do."
Even in a weakened condition, Foster worked with a tutor from home to keep up with schoolwork.
"That was pretty hard because you just don't have that much energy," he said. "But I did as much as I could. My tutor would come by once a week with what I needed to work on and I did as much as I could."
Kim Brunelle became Foster's counselor during his sophomore year.
"When I got him in advisory as a sophomore, I didn't have any background information on him," she said. "I knew his sister, but I didn't know the whole story, and I didn't get the whole story until we did some get-to-know-you things well into the first trimester.
"The thing about Nathan is that he's so unassuming. He was so matter-of-fact about what happened."
Brunelle immediately went to work helping Foster map out his three remaining years of high school to ensure he could graduate with his class despite missing a year.
Foster laughed.
"Most seniors graduate with three or four credits more than they need," he said. "I'm a half-credit over what I need to graduate."
Through the whole ordeal, Foster never became emotional. He never gave into self-pity.
"When they told me I had cancer, I just thought 'OK, that sucks. What do I do next,' " Foster said. "I've never got all that upset by the whole thing.
"I've always figured there are things in life that you can control and things you can't control. I don't understand getting all upset about things you don't have control over."
"That's Nathan," Cameron said. "He's always been that way. With the cancer, with his studies, whatever it is – he just figures out what it is he has to do and goes ahead and does it.
"He looks at it as 'This is just what I have to do today.' But if it's not something that he has to do, well, then he's a regular teenager."
Healthwise, Foster has recovered fully. His daily regimen includes taking a multivitamin, but that's about it.
"The doctors told me that I have a much greater chance of getting cancer again than most people have of ever getting it in the first place," he said. "That's pretty sobering."
Having faced real life-and-death issues squarely, Foster said he has trouble understanding fellow students who try to give everyday events life-and-death importance.
"I don't understand all of that," he said.
Brunelle said she was shocked when Foster recently told her that he hasn't cried about anything since before he was diagnosed.
"I kidded him and told him I was worried about him," she said. "I'm afraid he's going to explode from keeping things bottled up. But the thing is, he has this great perspective on life."
Understandably, his mother's emotions are closer to the surface. With graduation day here, she's understandably emotional. She's looking forward to watching her son accept his diploma, but remembers those long days where she wondered if this day would ever arrive.
"It's a happy day," she said.
Local journalism is essential.
Give directly to The Spokesman-Review's Northwest Passages community forums series -- which helps to offset the costs of several reporter and editor positions at the newspaper -- by using the easy options below. Gifts processed in this system are not tax deductible, but are predominately used to help meet the local financial requirements needed to receive national matching-grant funds.
Subscribe now to get breaking news alerts in your email inbox
Get breaking news delivered to your inbox as it happens.
---