Sports
Willis sinks Mariners' ship
Thu., June 9, 2005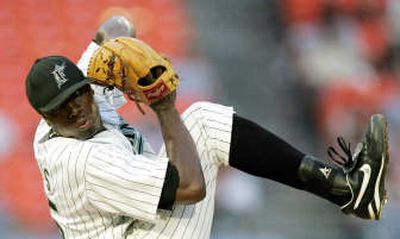 MIAMI – Dontrelle Willis and Carlos Delgado made sure Florida snapped out of its slump.
Willis became the major leagues' first 10-game winner, and Delgado drove in all of Florida's runs as the Marlins snapped a four-game losing streak with a 5-4 victory over the Seattle Mariners on Wednesday night.
Willis (10-2) wasn't particularly sharp, giving up a season-high 10 hits and four earned runs in 6 2/3 innings. Still, he became only the third pitcher in Marlins' history to log 10 wins before the All-Star break.
"Every win is big," Willis said. "This one was particularly big because we were on a slide."
For the second straight start, Willis helped stop a Marlins' losing streak. Last week, he beat Pittsburgh to end Florida's three-game skid. This time, it was another turn at picking his team up.
"When he pitches, he brings a lot of excitement to the team," Florida manager Jack McKeon said. "He works fast. He has the ability to battle out of jams. He fields well. He's a good hitter. He has a good pickoff move, and he runs the bases well.
"Why is he a 10-game winner? He can do all those things. The guy takes pride in being a polished pitcher and doing all the little things. That's why he's a 10-game winner and others are not."
Delgado's three-run homer in the fifth gave Florida a 4-0 lead. He had an RBI double in the third and drew a walk with the bases loaded in the sixth as the Marlins won for the third time in their last 14 games.
"He was a one-man wrecking crew," McKeon said.
The five RBIs were a season-high for Delgado and the most by a Marlins player this year.
"I got lucky," Delgado said. "I came up in some key situations and was able to drive the ball. I can't drive anybody in if nobody's on. It's a team effort."
Todd Jones, the third Florida reliever, worked the ninth for his 10th save in 11 opportunities.
Luis Castillo, batting in the leadoff spot for the seventh time this season, reached on a one-out single in the fifth, and Juan Encarnacion was walked by Gil Meche (5-4) in the fifth. Delgado followed with his 12th home run.
The Mariners, who had won three straight, pulled within 4-2 in the sixth but stranded a runner on third as Willis pitched out of trouble.
With one out in the sixth, Raul Ibanez singled to right, and the ball went through the legs of Encarnacion for an error, allowing Adrian Beltre to score from first. Ibanez took second on the play, and scored on Bret Boone's double. Boone moved up on a fly ball, and Willis struck out Pat Borders to end the inning.
The Marlins loaded the bases against Julio Mateo in the sixth, and Delgado walked with two outs to make it 5-2.
The Mariners scored two runs in the seventh. Rene Rivera led off the inning with a single, and with two outs, Beltre and Richie Sexson had consecutive doubles off Willis to make it 5-4.
"We've won a lot of close ones, and I thought we were in position to win this one, but we couldn't get Delgado out," Seattle manager Mike Hargrove said.
Meche (5-4) gave up four runs and six hits in five innings. He has lost consecutive road starts after not having lost away from home since May 27, 2004.
Meche said his problems started from the moment he took his first warm-up pitches on the mound. He complained of the mound being too steep, but blamed himself for not making the proper adjustments.
"The mound was steeper than I'm used to, but it's my job to make the adjustments," he said. "I let it get to my head. I'd make a good pitch, then the next one was in the dirt."
Notes
Adrian Beltre went 3 for 4 against Dontrelle Willis and is 7 for 9 lifetime against the left-hander. … Juan Pierre batted in the No. 7 spot for the Marlins. It was the first time that he started and didn't bat either first or second. He went 1 for 3. … Before his RBI double, Richie Sexson was 0 for 6 with four strikeouts lifetime against Willis. … Carlos Delgado is 6 for 10 with two homers against Gil Meche.
Local journalism is essential.
Give directly to The Spokesman-Review's Northwest Passages community forums series -- which helps to offset the costs of several reporter and editor positions at the newspaper -- by using the easy options below. Gifts processed in this system are not tax deductible, but are predominately used to help meet the local financial requirements needed to receive national matching-grant funds.
Subscribe to the sports newsletter
Get the day's top sports headlines and breaking news delivered to your inbox by subscribing here.
---