Sports
Nats swarm Mariners
Sat., June 11, 2005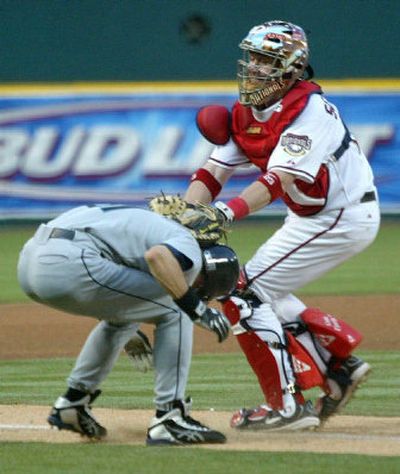 WASHINGTON – Managing a team without stars, Frank Robinson is a man with a mob mentality.
He sent his Washington Nationals at the Seattle Mariners in waves Friday, and by the ninth inning it seemed they were coming from everywhere – the dugout, the bullpen, maybe the stands at RFK Stadium.
Robinson's full-roster press worked, and an assortment of 19 regulars, pinch-hitters, pinch-runners and pitchers blew out the Mariners, 9-3, extending Washington's winning streak to a season-high eight consecutive games.
"Are they hot?" asked Bret Boone, repeating a question. "How about a 0-2 squeeze bunt that works? Yeah, they're hot."
An aggressive player whose skills got him into the Hall of Fame, Robinson at 69 has hardly tempered his approach.
Many managers save their bench for late in the game. Robinson went to his as early as the fifth, then simply swarmed the Mariners in the seventh and eighth.
Before the ninth inning began, he was down to one player on his bench. He didn't need him.
The Mariners had heard from Marlins players and coaches that Washington was more than hot, they were supernaturally hot – everything they tried worked.
It's still working.
As late as the sixth, Seattle was ahead 3-1, with Joel Piñeiro pitching well but tiring in the heat and humidity. When he departed, handing off a 3-2 lead, Piñeiro was on fumes despite having thrown only 80 pitches.
"When a pitcher tells you he's losing his effectiveness, you don't send him back out there," manager Mike Hargrove said.
For all that the Nationals did to win their 35th game of the year, they got a lot of help from an unexpected source – the Mariners' bullpen.
"We got into the seventh inning in pretty good shape and then just couldn't throw strikes," Hargrove said. "We got ourselves in trouble."
And then?
"We couldn't get a third out," Piñeiro said. "Those guys have done the job most of the season. It just didn't happen tonight."
Left-hander Ron Villone walked the first batter he faced, newly acquired Junior Spivey, and Spivey scored the tying run when rookie shortstop Mike Morse bobbled a ground ball by pinch-hitter Marlon Byrd. It was charitably ruled a hit.
"If I don't bobble it, I get him and the inning is over," Morse said.
Tied into the eighth, Robinson and his team didn't so much overwhelm the Mariners as watch Seattle implode during a six-run rally in which Washington managed three hits.
All singles.
Shigetoshi Hasegawa walked three men and gave up two of those hits, giving up three runs before loading the bases with only one out for left-hander Matt Thornton.
"It took me nine pitches to get a feel for the ball out there, and that was nine pitches too many," said Thornton, who walked the first two batters he faced – each of them forcing home a run. "What I feel worst about is giving up all those runs of Shiggy's."
As for Robinson, he had an MVP night without once leaving the Washington bench. He used four relievers for one inning each the last four innings, and the Mariners managed just one run in that span.
Everything Robinson tried turned golden. Spivey pinch-ran and scored. Rookie Rick Short, making his major league debut, pinch hit in the sixth against Piñeiro – and singled home the tying run on a 0-2 pitch. Infielder Jamey Carroll pinch hit, fell behind in the count 0-2, then dropped a squeeze bunt so perfectly that he beat it out, picked up the RBI and later scored himself. Pinch-hitter Byrd beat out the infield single that pushed home the tying run.
The Mariners had just as many hits (10) as Washington, but they were issued six fewer walks, and they never had an extended rally. They also had rookie mistakes to deal with. Morse had three hits – he's batting .385 – but bobbled a key ground ball and was doubled off first base on a line drive by being overly aggressive.
Hargrove shrugged.
"When you play young players, they're going to learn from their mistakes, but they're going to make mistakes," he said. "You have to live with growing pains."
Local journalism is essential.
Give directly to The Spokesman-Review's Northwest Passages community forums series -- which helps to offset the costs of several reporter and editor positions at the newspaper -- by using the easy options below. Gifts processed in this system are not tax deductible, but are predominately used to help meet the local financial requirements needed to receive national matching-grant funds.
Subscribe to the sports newsletter
Get the day's top sports headlines and breaking news delivered to your inbox by subscribing here.
---