Sports
Sorenstam halfway to Grand Slam
Mon., June 13, 2005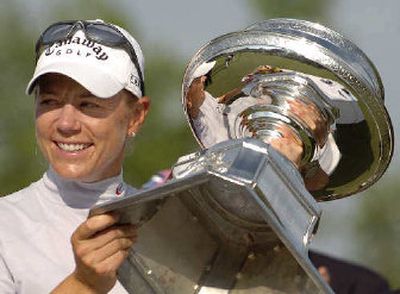 HAVRE DE GRACE, Md. – Halfway home to the Grand Slam, miles ahead of everyone else, Annika Sorenstam could hardly wait to take care of a most pressing matter Sunday after winning the LPGA Championship.
Tiger Woods had sent her a text message in April after he won the Masters to remind her that it was his ninth major championship, one more than Sorenstam. Her three-shot victory Sunday over Michelle Wie allowed her to catch him.
"I'm going to text him right now," she said, walking out the door with a gleam in her eye. "Nine."
Right now, that might be the only competition she is facing.
Making the Grand Slam look like a slam dunk, Sorenstam looked unstoppable as ever at Bulle Rock Golf Club by building an eight-shot lead at the turn and leaving everyone else with a familiar, hopeless feeling. Bogeys on the last two holes gave her a 1-over 73 and only made the margin seem closer than it was.
"I'm just glad it's over and that I won," she said.
Sorenstam became the first LPGA Tour player in 19 years to win the first two majors, and no one has any reason to believe she won't win the next two.
First came an eight-shot victory at the Kraft Nabisco Championship in March. This one was just as dominant, with Sorenstam taking the lead on the 16th hole of the second round and pouring it on from there.
Next stop: The U.S. Women's Open in two weeks at Cherry Hills.
"You are witnessing one of the greatest runs of any athlete in any sport at any time," LPGA Tour commissioner Ty Votaw said.
Her only competition in the final round – if it can be called that – came from an extraordinary 15-year-old who just finished the 10th grade and is still learning to drive a car.
Wie again came under scrutiny when the McDonald's LPGA Championship changed its criteria and allowed her to become the first amateur in the 51-year history of this event. But she showed she belonged, giving the big crowd a glimpse of the future with a 3-under 69 to finish second.
It was the highest finish by an amateur in a major championship since 20-year-old Jenny Chuasiriporn lost in a playoff to Se Ri Pak in the 1998 U.S. Women's Open.
"I was trying to make it a run for her money," said Wie, who passed up $164,385 because she's an amateur. "I don't want to prove anything to anyone. I was really happy to be here, and I felt like I finished really strong."
Ultimately, that's what the final round was all about – who was going to finish second.
Sorenstam was greeted with the applause for champions when she walked onto the first tee with a five-shot lead. It was up to six shots by the second hole, and the tournament was effectively over at the par-3 third.
She finished at 11-under 277 and earned $270,000, moving her past $17 million for her career. She won for the sixth time in eight starts this year, and now has 62 victories for her career.
"I do have to pinch myself sometimes when I look at my results," Sorenstam said. "I feel like I'm just a little girl from Sweden that came over here to follow my dreams and hope to win a few golf tournaments. When I look at my bio in the LPGA book, I get overwhelmed."
The U.S. Women's Open is the biggest major of the year on the LPGA Tour, one that has eluded Sorenstam since she won it in 1995 and 1996.
Local journalism is essential.
Give directly to The Spokesman-Review's Northwest Passages community forums series -- which helps to offset the costs of several reporter and editor positions at the newspaper -- by using the easy options below. Gifts processed in this system are not tax deductible, but are predominately used to help meet the local financial requirements needed to receive national matching-grant funds.
Subscribe to the sports newsletter
Get the day's top sports headlines and breaking news delivered to your inbox by subscribing here.
---