News > Features
Big swing
Tue., June 14, 2005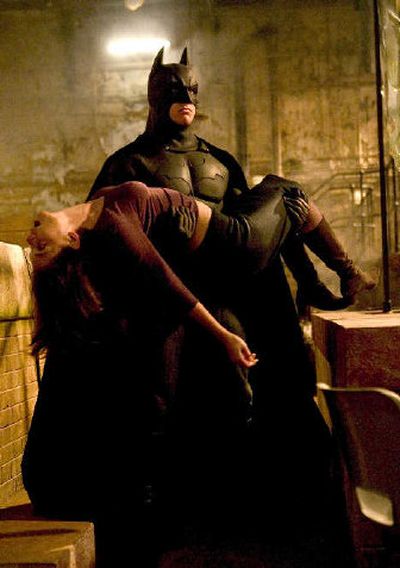 He dresses in black.
He witnessed the murder of his parents.
It's all he can do to keep himself from killing criminals with his bare hands.
So why has Batman become such a creature of ridicule?
From the campy TV show of the 1960s to the past two big-screen adaptations of the late 1990s, the Dark Knight has been anything but dark. He's been eclipsed by his enemies, made bland by studio decision-makers and afflicted with a too-suave attitude that made him seem more like James Bond with a utility belt.
That may change Wednesday, when "Batman Begins" aims to revive one of the most lucrative comic-book film franchises in history – one that already has generated more than $1.2 billion in worldwide ticket sales.
The new man behind the mask is darker, haunted, hell-bent on revenge. And the men who created the new "Batman" are hell-bent, too, determined to shake the stigma of earlier adaptations that nearly buried the Caped Crusader.
There's more than Gotham City to save. For distributor Warner Bros. and its DC Comics subsidiary, "Batman" is a $150 million gamble to become a contender again in Hollywood's comic-book derby.
For the movie industry, the cowled one represents one of the best hopes remaining for Hollywood to regain its box office footing this summer as ticket sales have plummeted $240 million behind last year's pace.
And for many fans, "Batman" is Hollywood's final opportunity to bring the big-screen luster back to the 66-year-old comic-book hero.
"This is probably Batman's last chance," says Mirko Parlevliet, president of the fan sites ComingSoon.net and SuperheroHype.com. "If the studio doesn't get this one right, I don't think fans are ever going to come back to watch another movie."
If the man who plays the superhero, Christian Bale, is worried about the threat, it doesn't show in his voice or brooding face.
"If you hated the last two 'Batman' movies," Bale says, "then you probably should check this one out."
Millions of fans are expected to, and they'll come to the theaters wielding the same expectations that grounded the franchise in 1997 with the train wreck "Batman & Robin."
The franchise was already woozy from 1995's "Batman Forever." While that movie was commercially a success, having taken in $184 million domestically, die-hard fans were bothered by how much it strayed from Tim Burton's dark, well-received 1989 and 1992 installments.
Campy, over-the-top villains like Riddler and Two-Face overpowered the hero, played by Val Kilmer.
But Warner Bros. considered the box office revenues of "Batman Forever" a license for more camp. For "Batman & Robin," director Joel Schumacher put a new face, George Clooney, in the costume. He signed on two new outlandish villains in Arnold Schwarzenegger's Mr. Freeze and Uma Thurman's Poison Ivy.
The $110 million spectacle earned $107 million in domestic ticket sales, savage reviews from critics and a cease-and-desist order from fans.
"For some reason, they decided to spoof it the way the TV show used to," says "Batman Begins" co-writer David Goyer. "Here's a great character, full of pathos and darkness. And they made him a clown."
Goyer says he didn't realize the resentment the last films had generated among fans until he attended the Comic-Con comic-book convention in San Diego last year to promote "Batman Begins."
"The first question I got was someone who stood up and said, 'How can you guarantee this movie won't (stink)?' " Goyer says. "And the crowd went crazy. That's when you know the pressure you're facing."
That pressure was so great that Warner Bros. and DC Comics allowed the franchise to lie dormant for eight years while they debated how to revive the character created by Bob Kane in 1939.
Meanwhile, Marvel Enterprises was taking off. Characters such as "Blade," "Spider-Man" and the "X-Men" were becoming box-office gold.
Warner Bros. developed "Batman" scripts based on everything from Frank Miller's dark graphic novel "Batman: Year One" to the animated TV show "Batman Beyond." None got off the ground.
Finally, director Christopher Nolan approached the studio with a novel concept: Tell the story of why Bruce Wayne became the Caped Crusader, one that hadn't been told even in the DC Comics canon.
To his surprise, the studio said yes.
"I'm still not sure how it happened, because it's a big-budget film," says Nolan, who gained fame with dark, low-cost but acclaimed fare such as "Memento" and "Insomnia." "They let me make the movie I wanted to make."
That movie bears more of a resemblance to the blockbusters of the 1970s and '80s than to the comic-book films of today. Think 1978's "Superman," not 2002's "Spider-Man."
Nolan built big sets in exotic locales. He found his cityscapes not on studio back lots, but in London, New York and Chicago. His early scenes of Bruce Wayne's martial-arts training were shot in remote villages in Iceland.
The effects are done primarily with stuntmen, not computer technicians. There's a key scene in which Batman stands atop a skyscraper, looking down on Gotham City.
"That's a real stuntman there in Chicago, not a computer-generated effect," says Michael Caine, who plays the butler Alfred Pennyworth. "That's when I knew this was not going to be your typical comic-book movie."
And it doesn't sport your typical comic-book cast.
Like "Superman," which featured heavyweight stars such as Marlon Brando, Gene Hackman and Ned Beatty in supporting roles, "Batman" sports some A-list stars of its own, including three actors nominated for Academy Awards (Liam Neeson, Ken Watanabe and Tom Wilkinson) and two Oscar winners, Caine and Morgan Freeman.
But no choice was more critical than Bale, who had become an Internet favorite with "American Psycho" and "The Machinist," losing more than 60 pounds for the latter role.
A skinny Bale showed up for the "Batman" screen test promising to gain back the 60 pounds, and then some, within six weeks. He did.
"He's got an intensity that Batman has to have," Nolan says. "Because he's essentially playing three characters: the playboy Bruce Wayne, the private Bruce Wayne and Batman."
Nolan also decided to give the Caped Crusader's toys a makeover. From his body armor to his cape to his Batmobile – a hybrid of a Hummer and a Lamborghini that cost $1 million – Nolan gave everything a real-life functionality.
"I wanted to give plausible reasons for his costume, his weapons," Nolan says. "It's not easy to explain why a guy dresses like a bat to fight crime."
Rob Worley, president of Comics2Film.com, understands how the Dark Knight found himself lampooned in the kitschy TV show, which ran from 1966 to 1968.
"You've got a guy who dresses up in a cape, tights and big ears, running around with his little buddy fighting bad guys," he says. "The TV world of the time probably didn't have the technology to pull off the comic-book character and effects, so it chose to be campy. And that's a tone that stuck."
Still, Batman's persona maintained its legions of fans.
"Batman is one of us," says Freeman, who plays Lucius Fox, the scientist who helps Bruce Wayne create his arsenal. "We've all got our dark sides. That's why he still resonates with us."
But will he still resonate with mainstream audiences? Some analysts wonder whether the comic-book craze is waning.
"We'll have to see if more than the comic-book nerds turn out," says Box Office Mojo's Brandon Gray.
"It's one thing to make a movie for fans. It's another to make a film all of America wants to see."
Co-writer Goyer isn't as concerned with mainstream audiences as he is with restoring the legacy of the fallen hero.
"I know we've done this movie the way it should have been done," he says. "It's already a victory for us."
And how will we know if it's a victory for fans? Goyer plans to attend this year's Comic-Con in July to get reaction from devotees.
"If I get there and a guy lifts his hand to give me a high-five," he says, "I'll know we did this movie right."
Local journalism is essential.
Give directly to The Spokesman-Review's Northwest Passages community forums series -- which helps to offset the costs of several reporter and editor positions at the newspaper -- by using the easy options below. Gifts processed in this system are not tax deductible, but are predominately used to help meet the local financial requirements needed to receive national matching-grant funds.
Subscribe now to get breaking news alerts in your email inbox
Get breaking news delivered to your inbox as it happens.
---