News > Nation/World
Poll finds overweight parents with skinny kids
Tue., June 14, 2005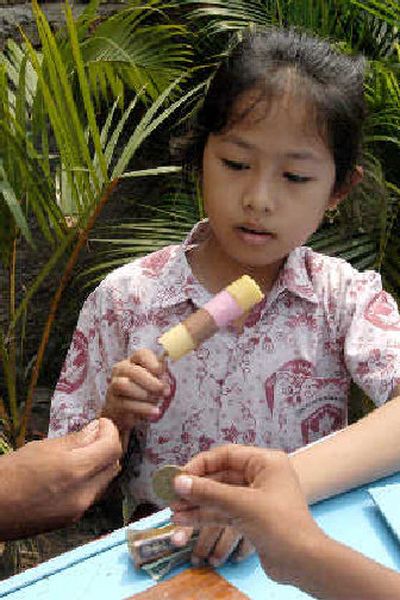 JAKARTA, Indonesia – When a woman with a big aluminum kettle on her back enters a working-class neighborhood, children swarm around to share spoonfuls of the syrupy porridge scooped from the vat.
Called "bubur sumsum Jawa" – rice flour mixed with sweet coconut milk and sugar – it sells for about 10 cents a bowl, creating a local favorite cheap enough for many poor families in Indonesia's sprawling capital to afford.
Indonesia has its share of American fast-food restaurants such as McDonald's and KFC, but far more ubiquitous and affordable are cheap street foods such as the sweet porridge and "chiki-chiki," a phrase for packaged junk food. As families abandon the countryside for cities, the abundance of this poor-quality food has grown.
One result, say global health experts, is the paradox of underweight children with fat parents.
A survey published in the International Journal of Obesity in the past year examined seven countries for underweight-overweight households. Two with the highest prevalence of such families are in Asia: Kyrgyzstan with 13 percent and Indonesia with 11 percent based on data several years ago and adjusted for household size.
These countries still are relatively poor, but incomes are growing enough for parents to give their children a few cents a day for preservative-filled processed foods lacking nutrients kids need to grow properly. Adults who eat them merely get fat.
Families who once grew their own fruits and vegetables now must buy everything in the city, where cheap street food abounds. That change, along with more mothers working outside the home and families watching television instead of working in the fields, is what is leading to these so-called "dual-burden" households.
Local journalism is essential.
Give directly to The Spokesman-Review's Northwest Passages community forums series -- which helps to offset the costs of several reporter and editor positions at the newspaper -- by using the easy options below. Gifts processed in this system are not tax deductible, but are predominately used to help meet the local financial requirements needed to receive national matching-grant funds.
Subscribe now to get breaking news alerts in your email inbox
Get breaking news delivered to your inbox as it happens.
---