News > Idaho
CDA 4 Kids will provide summer, after-school fun
Wed., June 15, 2005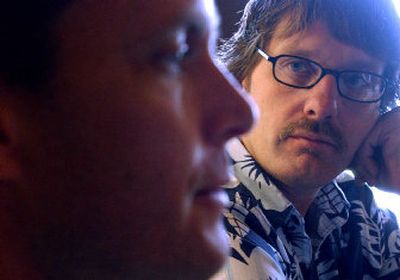 Bob Cummings had more than two dozen relatives living within miles of his home when he was growing up. He learned wood-carving from his Uncle Butch and experienced the hobbies and talents other relatives had to offer.
It's an experience that Cummings worries many children today are missing.
"The extended family is shattered," the mental health professional said Tuesday. Employees with Cummings' business, Alliance Family Service, are volunteering for a new program that aims to fill that gap.
The Coeur d'Alene School District has landed a large federal grant to start CDA 4 Kids, a summertime and after-school program that focuses on learning, fun activities, field trips and community service and includes free meals and snacks.
Volunteers and mentors are being sought to help with the program, which will serve students from Borah Elementary and those who attended Hayden Lake Elementary this year. Borah's program will be held at the school, and Hayden Lake's will be housed at Hayden Meadows temporarily until the new Atlas Elementary opens.
Borah counselor James Curb helped write the grant, which secured $150,000 in funding for each of the next three years.
For two years afterward, the district will receive a reduced amount of funding for CDA 4 Kids. Then, the program is expected to be self-supporting.
Curb said the district plans to apply for additional 21st Century Community Learning Centers grants to expand the program to other schools in the district. Borah and Hayden Lake were selected to pilot the program because the schools have a high percentage of students who qualify for free and reduced lunches, which indicates a high rate of poverty.
The summer program runs half days Monday through Thursday from July 5 to Aug. 11.
Curb said CDA 4 Kids already has a database of more than 1,200 willing volunteers and has received donations from the community to help fund fingerprinting and criminal background checks of all volunteers. Several organizations and businesses have signed on as partners.
Despite the large pool of those who have already offered to lend their time, Curb said more help is needed. Organizers are especially looking for volunteers to help with math, reading and computer skills. Other opportunities include sharing a hobby or skill and supervising activities or field trips.
Some of the activities planned so far include Spanish classes, tortilla-making and rock hounding.
"There are so many ways for people to get involved," said Gar Mickelson, director of outreach ministry at Hayden Lake Friends Church. Mickelson is helping recruit volunteers through his church.
Linda Powers, Title I director for the school district, said the program emphasizes the "40 Developmental Assets," a research-based list of traits that are said to "help young people grow up healthy, caring and responsible."
The list includes things like having support from their family and others, serving their community, having adult role models, being involved in creative activities, being engaged in school, being honest and responsible, being able to resolve conflicts peacefully and having high self-esteem.
Powers said academics are important, and the program will provide learning opportunities and tutoring, but she said it's important to consider the "whole child," too.
"We need to remember that kids need mentors," Powers said. "They need inspiration. They need guidance. They need variety."
Local journalism is essential.
Give directly to The Spokesman-Review's Northwest Passages community forums series -- which helps to offset the costs of several reporter and editor positions at the newspaper -- by using the easy options below. Gifts processed in this system are not tax deductible, but are predominately used to help meet the local financial requirements needed to receive national matching-grant funds.
Subscribe now to get breaking news alerts in your email inbox
Get breaking news delivered to your inbox as it happens.
---