News > Business
Change under the arches
Wed., June 15, 2005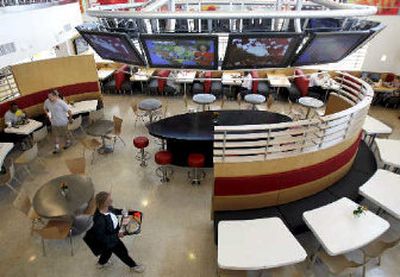 OAK BROOK, Ill. – Just outside its wooded headquarters campus, McDonald's Corp. is offering sneak previews of its fast-food future.
Now playing at its new flagship restaurant: Digital-media kiosks for burning CDs, downloading cell-phone ring tones and printing photos. Dozens of plasma-screen TVs. Wi-Fi Internet access. New chicken sandwiches. Double-lane drive-throughs. And an adjoining McCafe with gourmet coffees, fancy pastries and a fireplace.
Coming soon: Other menu items and concepts not yet released to a general audience.
Don't expect Starbucks-like makeovers like this one at the 13,600 U.S. McDonald's, or 30,000-plus worldwide; the Oak Brook restaurant, which opened late last month, doubles as public restaurant and test site. But the world's largest restaurant chain is tinkering with various possibilities in technology and design to try to ensure it is a hangout of choice in the future.
"It's unlikely you'll see this exact restaurant replicated," McDonald's spokesman Bill Whitman said. "But you will see elements of this restaurant in some of our new construction. It's all about keeping our restaurants more relevant for our customers."
McDonald's has undergone an image change in more ways than one since a time 2 1/2 years ago when its sales and reputation were sagging amid complaints about its service and food. Despite inconsistent results in some large European countries, that McSlump is no longer: Same-store sales have increased for 25 straight months in the key U.S. market.
The company reported first-quarter operating income was up 6 percent to $910 million and revenue rose 9 percent to $4.8 billion over the same time last year. Its stock price nearly tripled over a two-year period, hitting a four-year high of $34.56 per share in March, but has since settled around $29.
Snazzier new restaurants are part of the makeover; about 1,000, mostly older U.S. McDonald's have been either renovated or rebuilt since 2002. Contributing more to the sales resurgence, though, have been longer hours, accepting credit and debit cards, the high-powered "I'm lovin' it" marketing campaign and pricier new food items.
Some of the additions, such as salads, white-meat chicken nuggets and fruit options with Happy Meals, have served the dual purpose of enabling the company to state a commitment to a healthier, balanced menu while bringing in new customers who aren't there for the hamburgers.
McDonald's now hopes to attract more patrons with amenities that might entice them to come in and stay awhile.
Analyst Peter Jankovskis thinks the extra investments to try to make McDonald's restaurants hangouts are worthwhile, noting that they have worked not only at Starbucks but at Panera Bread and other chains.
"It used to be that a chance to eat burgers and fries with your friends was enough," said Jankovskis, director of research at Oakbrook Investments in nearby Lisle, which owns a million shares of McDonald's stock. "Now it takes a little bit more than that."
Local journalism is essential.
Give directly to The Spokesman-Review's Northwest Passages community forums series -- which helps to offset the costs of several reporter and editor positions at the newspaper -- by using the easy options below. Gifts processed in this system are not tax deductible, but are predominately used to help meet the local financial requirements needed to receive national matching-grant funds.
Subscribe now to get breaking news alerts in your email inbox
Get breaking news delivered to your inbox as it happens.
---