News > Features
Comeback challenges
Wed., June 15, 2005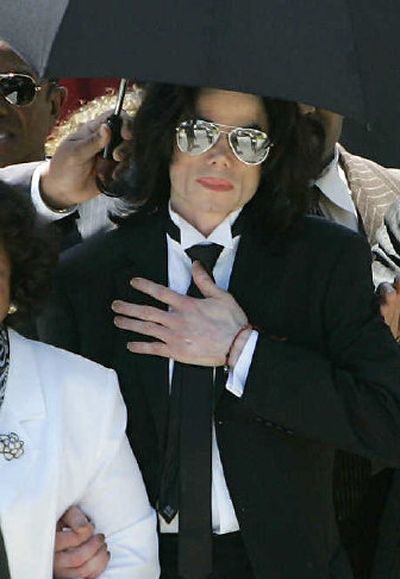 Michael Jackson's career has been declared dead before.
When his success as a child wunderkind fronting The Jackson Five was waning, some doubted whether he could make it as an adult star – and were proven wrong.
And when he had hits again with his brothers as part of The Jacksons, others questioned whether he could become a solo success – and they were wrong.
After Jackson became one of the most popular entertainers in history – and saw his image tarnished by a 1993 allegation of child molestation – many doubted that he would have a No. 1 hit again. But he did.
Still, after being charged with molesting a young cancer patient and a seamy, graphic trial featuring an avalanche of porn and allegations of sex with young boys, can Jackson's career withstand this latest blow – even with Monday's acquittal on all counts?
According to industry analysts, the answer is of course.
"He can have success," says Antonio "L.A" Reid, chairman and CEO of Island Def Jam records.
"I would say that he has to just make great music and concentrate on nothing else but making great music and making great live performances."
The public hasn't concentrated on Jackson, 46, as a musical figure for a long time. His last album, a greatest-hits project, was released the day of his arrest on child molestation charges in 2003.
For the past year and a half, news around Jackson has centered on allegations of sex with children, giving them alcohol and other questionable behavior at Neverland Ranch.
"People have been fascinated with Michael as a celebrity," says Jack Isquith, head of label relations at AOL Music, which premieres the latest videos, concerts and singles by the nation's top pop acts.
"He has declined in terms of his record sales and his musical standing. … There's no question that Michael has been perceived on the wane," Isquith says.
"(But) if Michael Jackson were to play the Apollo and it was monumentally brilliant … I think that would really register a lot of focus on Michael as a musical (figure)."
Las Vegas might be a possibility for him to make that great live performance.
On Tuesday, Jack Wishna, who has a minority interest in Trump's New Frontier Hotel and Casino, said he had been in talks with Jackson before the trial to perform on the Strip and hopes to continue those negotiations.
"I am still interested in bringing his talents to Las Vegas," Wishna said in a statement.
Even before the trial, Jackson's musical career had taken a back seat to his increasingly bizarre behavior, from extensive plastic surgery to holding his infant son over a balcony.
And his career was seriously damaged by the 1993 child-molestation accusation.
That case went away when Jackson paid a multimillion-dollar settlement while maintaining his innocence, and no criminal charges were filed.
Since then, he has released just two albums that have sold about 2 million copies each – great numbers for most artists but considered a flop given his previously stellar sales.
Still, he had retained his star power – a 2001 concert paying tribute to his 30 years in music featured a who's who of celebrities and legends, including Destiny's Child, Marlon Brando, Liza Minnelli, Whitney Houston, 'N Sync, Britney Spears and Elizabeth Taylor.
"To sell 2 million records says a lot," Reid noted.
"By the way, I'm not sure how many records Madonna sold, but I don't think it's very much more than that, probably about that."
Actually, it was less; her 2003 album "American Life" struggled to reach 1 million in sales.
Yet there is a considerable "ick" factor when it comes to Michael Jackson.
Though acquitted of child molestation, most people have been repulsed by his admission to sleeping in the same bed with children, even if it was nonsexual.
He also carries plenty of baggage given his eccentric behavior over the years and plastic surgery that has reduced him to a disturbing visual image.
But negative publicity – no matter how unseemly – doesn't necessarily mean the end of a career anymore.
Take R. Kelly.
In 2002, videotapes circulated showing a man bearing a striking resemblance to Kelly having sex with what appeared to be an underage girl.
Later that year, he was charged with child pornography, and pundits declared his career over.
A year later, he released the critically acclaimed "Chocolate Factory," which debuted at the top of the charts.
Since then, he has released two other platinum projects and worked with several top acts, including Britney Spears and Jay-Z.
Of course, Jackson faces plenty of challenges in making a comeback.
First, he doesn't have a label home; his commitment to Sony Music is just about over, and given the acrimony that relationship devolved into in recent years, he won't likely be recording a new album for Sony Music.
But Reid has said he would sign him, and Jackson already has at least one top producer willing to work with him.
"I would do records on Michael Jackson," multiplatinum hip-hop artist Missy Elliott said in a recent interview.
"Michael Jackson – he went through his thing where I think he was the biggest I think he could ever be," she said. "Of course, I don't think it would come back to that, but you've got a lot of people out there who respect and love Michael, like loyal fans."
Those fans certainly were evident throughout Jackson's trial, with many gathered outside the courtroom to cheer him on following Monday's verdict.
One observer says Jackson's criminal case has been a career boost and predicted a public rehabilitation of his reputation, a la Martha Stewart.
"I think that his acquittal will be enormously helpful to his career. Now he has the David and Goliath (parallel) on his side," says Paul Levinson, chairman of Media and Communications at Fordham University in New York City
"He stood up to the government. … He proved almost all the pundits wrong."
As far as refurbishing his tarnished image, Reid said that should be the last of Jackson's worries.
"That's how he got in trouble, by changing his image," Reid says.
"Let the music do the talking. Leave the rest of it alone."
Local journalism is essential.
Give directly to The Spokesman-Review's Northwest Passages community forums series -- which helps to offset the costs of several reporter and editor positions at the newspaper -- by using the easy options below. Gifts processed in this system are not tax deductible, but are predominately used to help meet the local financial requirements needed to receive national matching-grant funds.
Subscribe now to get breaking news alerts in your email inbox
Get breaking news delivered to your inbox as it happens.
---