Sports
Jackson returns to lead Lakers
Wed., June 15, 2005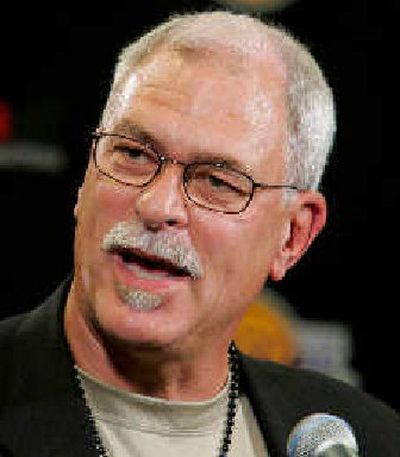 LOS ANGELES – Phil and Kobe, together again.
Phil Jackson is back with the Los Angeles Lakers following a breakup that took a year to mend, and back to coaching Kobe Bryant – a player he once called "uncoachable."
"This is something I never thought could possibly happen," Jackson said Tuesday at a Staples Center news conference. "It's a pleasure to come back."
Jackson, who won three championships with the Lakers in five years, was let go last June 18 by owner Jerry Buss – three days after the team lost to Detroit in the NBA Finals.
The buzz about Jackson's possible return began almost immediately after his replacement, Rudy Tomjanovich, left in February, despite Jackson's book detailing the 2003-04 season in which he made disparaging remarks about the franchise.
Bryant was at the top of that list.
"I think it's a matter of trust, a matter of rebuilding the trust that we had," Jackson said of his relationship with Bryant. "And yes, I have talked to Kobe; he actually called me this morning to congratulate me on the job. And I felt confident that he's confident that we can go forward."
Bryant's reaction to a possible return by Jackson seemed lukewarm at best during the past several months. But Bryant released a more positive statement through his agent.
"When the Lakers began the search for a new head coach, I put my complete trust in Dr. Buss and (general manager) Mitch Kupchak to select the person they thought was best for the Lakers' organization," Bryant said. "In Phil Jackson, they chose a proven winner. That is something I support."
Jackson's latest deal is for three years. Terms were not announced, but it's believed he'll be earning between $7 million and $10 million per year, making him the highest-paid NBA coach – a fact confirmed by Kupchak.
Kupchak said other potential coaches were contacted to gauge their interest.
"Roy Williams turned us down for the third time," Kupchak said of his attempts to talk with the North Carolina coach. "That's a Los Angeles record."
But the Lakers' only offer went to Jackson, Kupchak said, with the deal being finalized early Tuesday.
"I can see how thrilled he is to be back," said Todd Musburger, Jackson's agent. "It was the right decision. In the end, it came down to returning to the Lakers or taking another year off. And here we are."
Jackson said he's been approached over the last three weeks by fans and non-fans asking him when he was coming back.
"One of the reasons why I've returned is the support has been so tremendous in this city," he said. "It is a town that truly supports its team and has a tremendous amount of affection for it."
Jeanie Buss, the owner's daughter and the Lakers' executive vice president of business operations, publicly lobbied for months for the return of Jackson, her longtime boyfriend. She got her wish.
"We're very pleased to have Phil return to the Lakers as our head coach," Jerry Buss said in a statement. "His record speaks for itself and his success in this sport is unparalleled. Quite simply, Phil is the best coach in the business and probably the greatest coach of all time."
Jackson, who has had health issues in the past, will turn 60 in September. He said he is "100 percent healthy."
Jackson, who has never posted a losing record, has coached nine NBA championship teams – six with the Chicago Bulls and in his first three years with the Lakers – from 2000-2002.
That ties him with former Boston Celtics coach Red Auerbach for the most in league history.
Local journalism is essential.
Give directly to The Spokesman-Review's Northwest Passages community forums series -- which helps to offset the costs of several reporter and editor positions at the newspaper -- by using the easy options below. Gifts processed in this system are not tax deductible, but are predominately used to help meet the local financial requirements needed to receive national matching-grant funds.
Subscribe to the sports newsletter
Get the day's top sports headlines and breaking news delivered to your inbox by subscribing here.
---