News > Features
Spokane chorus wins contest
Wed., June 15, 2005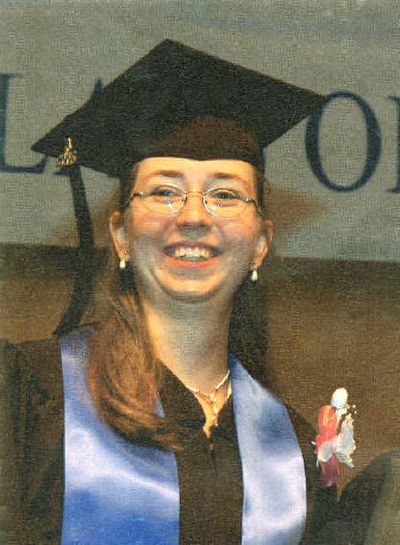 Pages of Harmony, Spokane's Barbershop Harmony Society chapter, won first place in the chorus competition at the Evergreen District Division V Contest held June 4 in Kennewick. The group will represent Division V at the Evergreen District Contest in Calgary, Alberta, Sept. 30 and Oct. 1.
In addition, the following local chorus and quartets also placed during the contest. Musical groups are listed by the category:
Most Improved Chorus: Lake City Harmonizers.
Quartet competition: Riverside Ramblers, third place; Baby Blues, fourth place; and Four Way Street, fifth place.
Novice Quartet competition: The Fifth Amendment.
Senior Quartet competition: Flour The Good Times.
•Ray Hamel, professor and chairman of the computer science department at Eastern Washington University, received the 2005 Trustees Medal during EWU's spring commencement ceremony held June 11. The award is in recognition of teaching excellence, significant contributions to scholarship and research, and accomplishments in the development of academic programs and curricula.
•Cassidy Gardner of Ferris High School has received a $1,000 Marilyn Highberg Scholarship Award. She will attend Honors College at the University of San Diego in the fall.
•The following local students recently received scholarships from the National Multiple Sclerosis Society: Fiona Gilleran of Shadle Park High School; Katrina Johnson of Mt. Spokane High School; and Kristine Spitzer of Lewis and Clark High School.
•Sabrina Slater of Spokane was named to spring semester dean's list at Lehigh University, Bethlehem, Pa.
•Stephanie Lines, a 2004 graduate of Lewis and Clark High School, was named to the spring semester dean's list at the University of Montana, Missoula.
•Barbara Eldredge, daughter of Bruce and Janet Eldredge of Spokane, was named to the spring semester dean's list at Ohio Wesleyan University, Delaware, Ohio.
•Rene'e Gaunt of North Central High School recently received a scholarship from the Spokane Central Lions Club.
•The following area students each recently received a $1,000 scholarship from Inland Power and Light: Beth Clipson of Oldtown, Idaho; Ame Powell of Colbert; Jordan Marshall of Mead; Kayla Brown of Spokane; Sarah Ellison of Colbert; Tyler Llewellyn of Wilbur, Wash.; Rebecca Hickman of Greenacres; Larissa Zeiler of Odessa, Wash.; Lauren Hallett of Cheney; and Angie McNaught-Davis of Medical Lake.
•Cassandra T. Rorie, the daughter of Stephen and Bonnie Rorie of Spokane, has graduated magna cum laude from Soka University of America, Aliso Viejo, Calif., with a degree in social and behavioral sciences.
•Andrew Ice of Spokane has graduated with a Bachelor of Science in information systems from Wake Forest University, Winston-Salem, N.C.
•Joshua Filzen of Valleyford has graduated from Boise State University with a Master of Science in accountancy.
•The following Spokane residents graduated during spring commencement from Boston College: Anthony Blaine, Bachelor of Arts, philosophy and theology; and Erin Richardson, cum laude, B.S., biochemistry and theology.
•Joel Strasser of Nine Mile Falls has been recognized as a member of the Sigma Alpha Lambda National Leadership and Honors Organization at Eastern Washington University.
•Matthew Halloran of Newman Lake was named to the winter semester dean's list at Northern Michigan University, Marquette.
Local journalism is essential.
Give directly to The Spokesman-Review's Northwest Passages community forums series -- which helps to offset the costs of several reporter and editor positions at the newspaper -- by using the easy options below. Gifts processed in this system are not tax deductible, but are predominately used to help meet the local financial requirements needed to receive national matching-grant funds.
Subscribe now to get breaking news alerts in your email inbox
Get breaking news delivered to your inbox as it happens.
---