News > Nation/World
Tourists' sightseeing trip in helicopter ends in river
Wed., June 15, 2005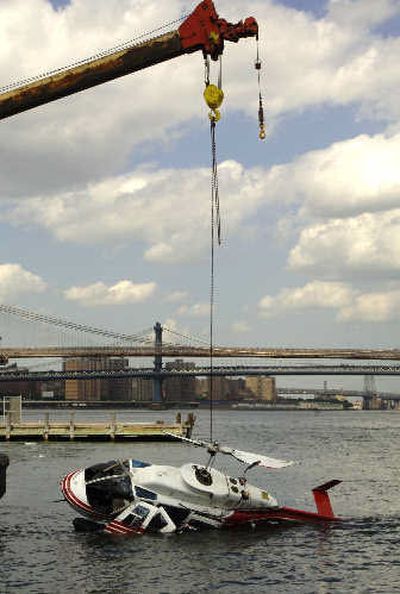 NEW YORK – A helicopter carrying tourists on a sightseeing trip above Manhattan crashed Tuesday into the East River minutes after takeoff, critically injuring one passenger, authorities said.
None of the six others on board was seriously hurt.
Police units that patrol the harbor were already in the area conducting a drill and quickly rescued the pilot and his passengers, who were standing on or clinging to the helicopter's pontoons when the boats arrived, Inspector Michael Coan said.
Everyone was taken to the hospital as a precaution. Six were able to walk; one woman was exposed to helicopter fuel and another nearly drowned before being rescued, authorities said.
The second woman had water in her lungs and was in critical condition.
The helicopter was towed to a pier in lower Manhattan, then taken to Brooklyn, where federal investigators were examining it. Determining even a preliminary cause of the crash could take two weeks, said Robert Gretz of the National Transportation Safety Board.
All those aboard the helicopter reported hearing a loud bang as they ascended from the Wall Street heliport.
The Bell 206 LongRanger did a 360-degree roll before the pilot put the six-passenger helicopter in the water and deployed its flotation devices.
When the helicopter was removed from the water, its blade, tail and windows were broken. The 28-year-old aircraft was operated by Helicopter Flight Service, which did not return phone messages.
Local journalism is essential.
Give directly to The Spokesman-Review's Northwest Passages community forums series -- which helps to offset the costs of several reporter and editor positions at the newspaper -- by using the easy options below. Gifts processed in this system are not tax deductible, but are predominately used to help meet the local financial requirements needed to receive national matching-grant funds.
Subscribe now to get breaking news alerts in your email inbox
Get breaking news delivered to your inbox as it happens.
---