News > Business
Upward cycle
Wed., June 15, 2005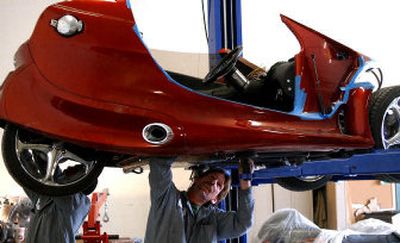 A year after opening its doors, a Washington company has started shipping its first high-end, three-wheeled motorcycles to dealers around the country.
Merlin Motors, with headquarters in Seattle and a manufacturing site in Spokane Valley, hopes to sell more than 200 of the roadsters this year.
Company CEO Dan Keto said the product's strong initial interest has been fueled by motorcycle fans.
At the same time, he's counting on gaining customers as American drivers retreat from SUVs to more fuel-efficient machines.
The Merlin Roadster has a suggested retail price of $30,000. The first production model was sent last week to a motorcycle dealer in Oshkosh, Wis.
Made of a fiberglass body on a steel frame, the open-cockpit Merlin Roadster weighs about 1,050 pounds and easily gets 35 miles per gallon, said Keto, who's based in Seattle. They're powered by a Harley-Davidson motorcycle engine.
"We're not selling this as a consumer car," he added. "We're selling passion on wheels."
He said the company will be taking models later in the summer to the annual Black Hills Motorcycle Rally in Sturgis, S.D.
At the same time, the market is open to companies that can exploit the "smaller is cheaper" mindset among drivers, he said.
"The SUV market is collapsing. There's a tremendous appeal in the micro-vehicle market for us to take advantage of," he said.
Keto's brother, Ron Keto, heads the Spokane Valley production site. The company's managers — Dan Keto, Dean Dorcas and Seattle investor Craig Kinzer — voted to move manufacturing to Spokane because of the area's lower cost of operation.
Start-up funds came entirely from Seattle-area investors, plus from friends and family, said Dan Keto.
The Spokane plant can produce about 10 units a month in its current site near Liberty Lake. In several weeks Ron Keto will move production to a larger building at the Spokane Business and Industrial Park.
He expects to boost production to about 25 models a month, Ron Keto said.
The Merlin Roadster is an inverse tricycle. Instead of a single front wheel, it has two front wheels and one rear wheel.
Initial dealer interest has been high. After sending out brochures last year, the company drew interest for 800 units, said Ron Keto.
The Ketos say they will have no problem selling every roadster they make this year. Next year should be even stronger, they said.
"This year we'll have sales of $4.5 million to $6 million. Which is not bad for the first year," said Dan Keto.
To ramp up production, the Ketos are contemplating shifting high-volume production to the Midwest. Dan Keto said about 10 percent of production costs comes from shipping parts from Canada and the Midwest to Spokane, then sending the completed roadsters to dealers on the East Coast or in the Midwest.
"From a cost-efficiency standpoint, we'll save money by shifting manufacturing to the Detroit area," he said.
But no final decision to shift production to Detroit has been made, the Ketos said. "At the soonest that might be in early 2006," Dan Keto said.
Another change in the works is a possible shift from using fiberglass for the body to thermoform plastic. Plastic is easier to work with than fiberglass, and it's lighter. That shift could reduce the weight of the average roadster by 100 pounds and further improve fuel efficiency, Dan Keto said.
Spokane Valley will remain the site for customized production and for testing of new models. "Customized production is very big," said Ron Keto. "A lot of people want something different and special. And all that would be done here."
The company has two new models ready to be introduced over the 24 months: a two-seat roadster and a tricycle equipped with a hardtop cover.
"That model will have a water-cooled, concealed motor," said Ron Keto. "And it will be more affordable, at about $25,000."
Local journalism is essential.
Give directly to The Spokesman-Review's Northwest Passages community forums series -- which helps to offset the costs of several reporter and editor positions at the newspaper -- by using the easy options below. Gifts processed in this system are not tax deductible, but are predominately used to help meet the local financial requirements needed to receive national matching-grant funds.
Subscribe now to get breaking news alerts in your email inbox
Get breaking news delivered to your inbox as it happens.
---