News > Features
We'll soon see if they really worship each other
Wed., June 15, 2005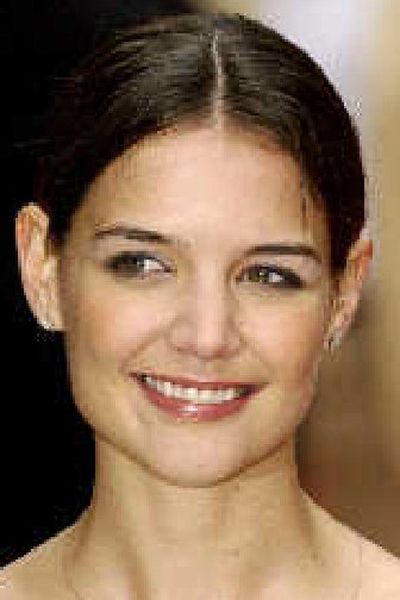 Katie Holmes says she's embracing Scientology, the religion of her boyfriend, Tom Cruise. In London to promote her new film, "Batman Begins," Holmes was asked if she is taking lessons in the Church of Scientology.
"Yes, I am, and I'm really excited about it," she said.
The 26-year-old actress also dismissed critics who have accused her and the 42-year-old Cruise of staging a relationship to publicize their new movies.
His "War of the Worlds" opens June 29.
"It doesn't hurt me at all. There are a lot of people really, really happy for us," Holmes said.
"It's really exciting," she added. "We are so happy. I don't really care about the critics," she said.
As for wedding plans, Holmes said: "There's nothing official to report."
But when asked by an Entertainment Weekly interviewer if he's going to propose to Holmes, Cruise whispered: "It's gonna happen, man. It'll happen."
The T-shirts, of course, are not free
Meanwhile, a former entertainment producer has launched a campaign to "free" Katie Holmes.
Sheila Cameron has created www.freekatie.net to help "liberate Katie, a young, gifted, actress held captive by forces we may never understand. Even one summer of captivity is too long for one so bright!"
Visitors to the site can purchase a "Free Katie" T-shirt, mug or baseball cap, and rant on message boards.
Was the bandit just blowing smoke?
Burt Reynolds and a former girlfriend have agreed to settle lawsuits they filed against each other in November, according to lawyers for both sides.
Pamela Seals sued Reynolds over alleged physical abuse and broken promises one day after he sued her, claiming she was threatening to falsely accuse him of abuse if he didn't pay millions of dollars in extortion.
Seals said Reynolds had agreed to maintain her lifestyle and take care of her mother indefinitely, even if the relationship ended. She also said he promised to give her half of his estate in Jupiter, Fla.
Lance's cycle of life
Along with thinking about winning his seventh straight Tour de France title, cyclist Lance Armstrong also is considering his future with singer Sheryl Crow.
Armstrong, who overcame testicular cancer to win his first Tour in 1999, says he will retire after this year's race. Next up: a life with Crow and more kids?
"Yeah. Sheryl and I are very happy. To me, when you have a relationship, you're happy and in love, children are a natural part of the equation," Armstrong says.
"I had a marriage that didn't work, but I still believe absolutely in the institution of marriage."
Keeping tabs on Kylie
Australian singer Kylie Minogue has thanked fans for their support since she was diagnosed with breast cancer.
"I am getting through this one step at a time, and your messages of love and support have been greatly appreciated," Minogue, who had surgery last month to remove a lump from her breast, said on her Web site.
She also urged them not to "believe everything you have read" in the media, including "the repainting of my hospital room pink … imported English bodyguards … diverted ambulances … an 'entire hospital wing' for 'my entourage' and other equally ridiculous stories."
The birthday bunch
Actor Jim Belushi is 51. Actress Julie Hagerty is 50. Actress Helen Hunt is 42. Actress Courteney Cox Arquette is 41. Rapper-actor Ice Cube is 36. Actress Leah Remini is 35. Actor Neil Patrick Harris is 32. Singer Dryden Mitchell (Alien Ant Farm) is 29.
Local journalism is essential.
Give directly to The Spokesman-Review's Northwest Passages community forums series -- which helps to offset the costs of several reporter and editor positions at the newspaper -- by using the easy options below. Gifts processed in this system are not tax deductible, but are predominately used to help meet the local financial requirements needed to receive national matching-grant funds.
Subscribe now to get breaking news alerts in your email inbox
Get breaking news delivered to your inbox as it happens.
---