Sports
Another win sealed by Sele
Thu., June 16, 2005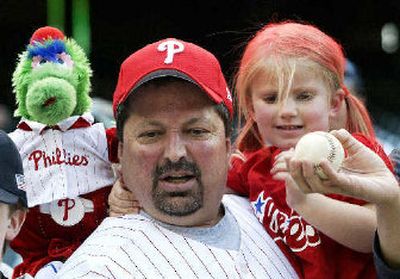 SEATTLE – Aaron Sele is everything the National League fears about the American League – one of those backwards-pitchers who will throw curves in fastball counts, change-ups whenever he feels like it and still zip a fastball by you now and then.
There have been those over the years who have suggested Sele change professions.
What he might want to consider is changing leagues.
Sele's style befuddled the Philadelphia Phillies on Wednesday, and Seattle's 5-1 victory was the 18th of his career against National League teams in interleague games.
No one in baseball has won more.
Backed by home runs from Ichiro Suzuki, Randy Winn and rookie Mike Morse – and shutout pitching from the bullpen over the last three innings – Sele continued a rebound that began last month and has seen him win four of his last five starts.
No, he's not the pitcher he was when he won 17 games as a Mariner in 2000.
He's better.
"I don't know if I like National League baseball," Sele said, laughing. "I mean, you've seen my plate appearances. I can't hit. But National League hitters are aggressive, and if you can keep the ball moving, keep it down, you can get ground-ball outs. I've had success doing that."
After losing three in a row on the road to Washington, the Mariners have beaten Philadelphia twice at Safeco Field, and done so with pitching the Phillies could do nothing with. Gil Meche and Eddie Guardado held them to one run on Tuesday, then Sele, Ron Villone and Jeff Nelson stopped them at one again.
The Seattle offense started when leadoff hitter Ichiro began the game with a home run for the 14th time in his career, and when Jeremy Reed pushed home a second run in the first inning with a sacrifice fly, Sele had all he would need.
He got more.
Winn homered in the third, his second of the season, and it stayed 3-1 into the eighth. By then, Sele was done. Seattle's offense was not. After third baseman Dave Hansen drew a walk, shortstop Morse hit the first home run of his career – a two-run shot that put this one away.
Ichiro and Winn had homered before. Morse had not.
"I knew I hit it good, but I've never hit one in the big leagues, so I just took off running," Morse said. "It was awesome."
For Morse, almost everything is.
Thirteen games into his big-league career, Morse is batting .395 and gobbling up everything around him.
"The kid works hard, he pays attention and keeps his mouth shut," manager Mike Hargrove said. "He listens, and all that has paid off."
It's made Morse something of a collector.
"I have the lineup card from my first game, the ball from our first win, the ball from my first hit and now the ball from my first home run," Morse said. "I still get goose bumps turning a double play with Bret Boone. I'm having a blast."
Morse had to endure a different reality after the game. As he was doing an on-air interview in the Seattle dugout when – who else? – Guardado nailed him with a shaving cream pie.
The kid never stopped smiling.
"I hope we can do this again," Morse said.
Local journalism is essential.
Give directly to The Spokesman-Review's Northwest Passages community forums series -- which helps to offset the costs of several reporter and editor positions at the newspaper -- by using the easy options below. Gifts processed in this system are not tax deductible, but are predominately used to help meet the local financial requirements needed to receive national matching-grant funds.
Subscribe to the sports newsletter
Get the day's top sports headlines and breaking news delivered to your inbox by subscribing here.
---