News > Voices
Fighting through it
Thu., June 16, 2005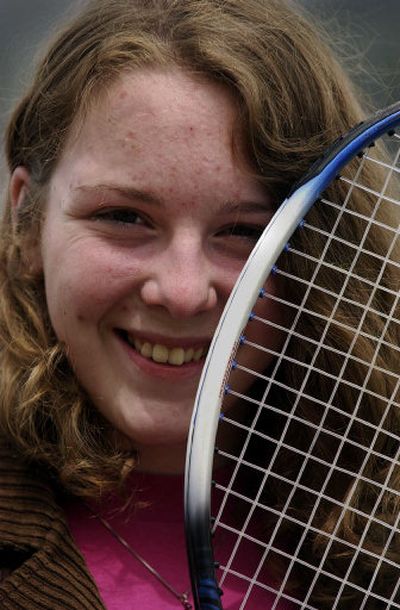 There are days when just getting out of bed is a challenge for Kara Kazemba.
The standout tennis player missed most of this past season with an injured hip, but that's only part of what makes things difficult for the West Valley junior.
Kazemba is battling what doctors believe is lupus, a chronic autoimmune disease.
"I haven't been diagnosed completely yet, but the diagnosis they're leaning toward right now is lupus," Kazemba said. "I have Raynaud's phenomenon, which means the smaller blood vessels in my body constrict when I'm stressed out or when it's cold. That makes it painful to grab anything – like a tennis racquet. I have muscle stiffness and weakness and joint stiffness and weakness. I have fatigue.
"The big symptom that I'm missing and the reason they haven't diagnosed me completely yet is the butterfly rash across the bridge of my nose."
Lupus is one of those diseases that strike for unknown reasons, causing the body's immune system to attack its own tissues and organs. Nine out of 10 patients suffer from achy joints and arthritis, and more than eight in 10 struggle with prolonged or extreme fatigue.
"A lot of people just don't understand when I tell them that I just can't do something," she said. "I look normal. One of my friends is on the track team and he would get really frustrated because there just wasn't anything he could do to help me feel better. It's hard sometimes."
Drug companies haven't helped.
Kazemba got relief from the drug Vioxx, only to have it pulled from the market. Her doctors then switched her to Bextra, only to have that drug, too, yanked from the pharmacy shelf.
"I was really angry when Vioxx was pulled," she admitted. "That was really working for me, and I was being helped by it."
With a body that can rebel against the effort to play competitive tennis, Kazemba still was West Valley's No. 1 singles player as a sophomore and came into this season looking to hold onto her spot atop the team ladder.
"Getting exercise always helps people with arthritis," she explained. "Sitting around will just allow your joints to get stiffer. But my doctor has suggested a few times that I give up tennis because I'm just too competitive. I push myself too hard most of the time.
"But I can't. Not only does physical exercise help, but it's also a great outlet for me. It helps keep me from getting too emotional or too stressed out."
Kazemba plans to stick with the game she loves and takes a philosophical approach to the attached difficulties.
"I always have trouble," she explained. "The thing about having something where you know you'll be dealing it the rest of your life, you also know that you can be stronger than it. Some days you're going to be able to do stuff and some days you're not going to be able to do stuff. On the days when you don't think you're going to be able to, you just have to fight through it.
"I love tennis so much that I basically play it every day, but (Lupus) does some impact on how well I do it some days."
A strained tendon in her hip put Kazemba on the sideline until this past week, when her doctors cleared her to begin rehabilitation.
Painful as the hip was, it was even more difficult to stand by and watch.
"The thing with my hip this year was connected with my lupus, but it was mostly a tendon issue," Kazemba said. "If it had just been lupus I would have fought through it like I have every season.
"I cried at the first match. (No. 1 singles player) Melody (Dossey) was playing someone I had beaten the year before. I kept thinking 'Oh no, I know how to beat this girl and I'm not going to be able to tell her.' And at that time I didn't know I had coaching rights."
Those coaching rights grew over the course of the season. Kazemba helped boys varsity coach Jamie Nilles coach a young squad and discovered another side of her passion for tennis.
"I really enjoyed it," she said. "When I was working with young players and showing them strokes or talking to them about strategy, I was relearning it myself."
She was even the team's de facto coach for its matches in Clarkston.
"Coach Nilles wasn't able to go on that trip, so I got to be the coach," she said. "It was fun. And I think the guys were even listening to me, and that made things even better."
Her coaching secret?
"I baked a cake," she laughed. "They liked the cake, and it was easier to do that than to bake them cookies."
The experience has given Kazemba a new career goal.
"I want to someday come back and coach tennis at West Valley," she said.
Meanwhile, Kazemba is working toward playing competitive tennis by the end of July and aims to reclaim her No. 1 varsity spot next spring.
"I believe everyone is allowed five minutes a day to feel sorry for themself," she said. "After that, you just have to get back to coping with it."
Local journalism is essential.
Give directly to The Spokesman-Review's Northwest Passages community forums series -- which helps to offset the costs of several reporter and editor positions at the newspaper -- by using the easy options below. Gifts processed in this system are not tax deductible, but are predominately used to help meet the local financial requirements needed to receive national matching-grant funds.
Subscribe now to get breaking news alerts in your email inbox
Get breaking news delivered to your inbox as it happens.
---