Sports
Pining for a dispute
Thu., June 16, 2005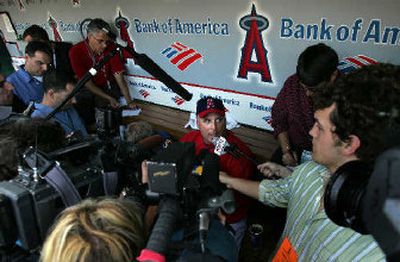 ANAHEIM, Calif. – The pine tar feud was still simmering Wednesday.
A day after Washington Nationals manager Frank Robinson asked umpires to check Brendan Donnelly's glove and the Los Angeles Angels' reliever was ejected for having pine tar on it, Robinson leveled some fresh accusations.
He claimed Angels pitching coach Bud Black and manager Mike Scioscia were aware that Donnelly was using pine tar.
"Donnelly knows he's breaking the rules, believe me," Robinson said. "Bud Black knows he's breaking the rules, believe me. Scioscia knows he's breaking the rules, believe me," Robinson said before the final game of the three-game series.
"But they allowed him to continue to do it. They got caught last night and they got upset about it. That's the tightrope you walk if you're going to cheat."
Told that Robinson said he and Black knew Donnelly was breaking the rules, Scioscia said, "No.
"A pitcher who would have a little pine tar on his glove is not something that you're going to go around and randomly check. It happens with a lot of pitchers in baseball and it's just been a practice that's accepted," Scioscia said, adding that will change now.
Following Tuesday night's game, when the Nationals scored four runs in the eighth inning against Donnelly's replacement, Scot Shields, and won 6-3, Robinson also claimed that Donnelly had sandpaper on the mound, but passed it off to second baseman Adam Kennedy.
"That's absolutely ridiculous," Scioscia said. "To bring Adam into it is absolutely ridiculous."
Said Kennedy: "To me it's off-the-wall, so it was kind of funny to me and not really insulting."
Donnelly was ejected in the seventh without throwing a pitch. Scioscia came onto the field and began jawing at Robinson, and both benches emptied, although there apparently were no punches thrown.
"To me, Scioscia overreacted," Robinson said. "He stepped over the line, and that's what fueled the whole thing."
He said the incident wasn't worth any players throwing punches, adding, "If there were any punches that were going to be thrown, it was going to be between the two managers – because that's where the problem was."
Robinson, 69, said that was the angriest he's been at someone in uniform since his playing days.
Scioscia, 46, was more conciliatory on Wednesday, saying he had not intended any disrespect toward Robinson.
"I only wanted to prepare Frank and the umpires that what's good for the goose is good for the gander," Scioscia said.
He asked the umpires to check Washington reliever Gary Majewski's glove in the eighth, and they made him retie loose laces on the webbing.
Donnelly's glove has been sent to the Commissioner's office, which will determine any discipline.
Donnelly, who said he has used pine tar to better grip the ball, rather than doctor it, had a new glove Wednesday.
"It's my belief that a lot of pitchers are going to go out there with newer gloves in the near future, starting today," he said.
Local journalism is essential.
Give directly to The Spokesman-Review's Northwest Passages community forums series -- which helps to offset the costs of several reporter and editor positions at the newspaper -- by using the easy options below. Gifts processed in this system are not tax deductible, but are predominately used to help meet the local financial requirements needed to receive national matching-grant funds.
Subscribe to the sports newsletter
Get the day's top sports headlines and breaking news delivered to your inbox by subscribing here.
---