Sports
Pros know what danger lurks
Thu., June 16, 2005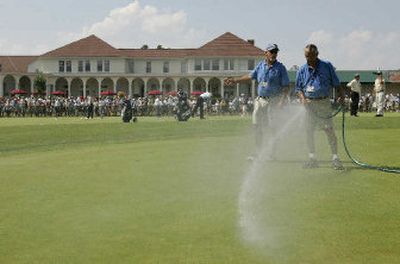 PINEHURST, N.C. – Balls that land in the rough can't be seen 5 feet away. Shots that land on the domed greens at Pinehurst No. 2 don't stay there very long. The U.S. Open is supposed to be the toughest test in golf, and Vijay Singh found it to be every bit of that.
But it was only Wednesday, and that's what troubled him.
"If you're not careful, you can make bogeys on every hole with good shots," Singh said. "It's very fair at the moment, but it's very, very difficult. But it could get on the edge very quickly – if they don't watch it, it's going to get over the edge in a heartbeat."
Several players still couldn't stop thinking about last year.
The USGA refused to water the greens or account for dry, blustery warmth that baked out Shinnecock Hills and turned the final round into a fiasco. Tee shots wouldn't stay on the par-3 seventh green until officials had no choice but to hose it down every other group.
No one could break par on the last day, and 28 players couldn't break 80.
It must have been a welcome sight for the 156-man field to see a maintenance crew water the greens during the first three days of practice at Pinehurst.
Goosen feels underappreciated
Two U.S. Open titles and another 20 victories around the world should be enough to make Retief Goosen a star. Yet when he arrived at Pinehurst No. 2 this week, the 36-year-old South African found little evidence to support that.
"There's times that I feel like, yeah, you've won a couple of U.S. Opens and there's not a picture of you anywhere or nothing has been mentioned or anything like that," Goosen said. "And you feel like, well, in a way, it makes you more determined to try and win another one and see what happens next time you come back, if there's a picture somewhere."
His fellow players certainly appreciate Goosen and his performance last year at Shinnecock Hills. Despite brutal playing conditions Goosen completed a steady 1-over-par 71 to beat Phil Mickelson by two shots.
Pinehurst special for Mickelson
Phil Mickelson brought his family to the U.S. Open this week, and not just to watch him play golf.
He wanted his wife to see where he stayed that eventful week in 1999. He wanted his daughter to understand what happened six years ago when her dad would have given up his chance at an Open title to be able to witness her birth.
He wanted them to understand the emotions of frustration and then joy that he felt as he lost an Open and gained a daughter within the space of 24 hours.
"We tell the story to our daughter Amanda about her birth and how it all took place and the story about it," Mickelson said earlier this week. "It'll be fun for her to be at the place that we've been talking about all these years."
Mickelson was not yet a father on Father's Day 1999, but it seemed he was about to become something else he also wanted badly to be – an Open champion.
He came to North Carolina the night before the Open began, not wanting to leave his expectant wife, Amy, any longer than he had to. He came wearing a beeper that would go off if Amy's water broke.
He came promising everyone he would leave immediately if that happened. Becoming a father, he said, was more important than winning an Open.
Standing on the 16th fairway and ahead by a shot on the final day, Mickelson thought the Open was his to lose.
Then Payne Stewart saved par with a 25-footer on 16, Mickelson missed his 6-foot par putt and Stewart birdied the 17th with a 6-iron to 3 feet.
Mickelson still had a shot. Stewart was in trouble on 18, and Lefty's 25-foot birdie putt stopped inches short.
He then watched as Stewart stood over his 15-footer to win in the fading light and stroked it into the cup for the win.
Stewart's putt didn't just go down in Open history. It also prevented a Monday playoff that might have been a one-man affair.
Amy's water broke the next day, just about the time the playoff would have started.
Local journalism is essential.
Give directly to The Spokesman-Review's Northwest Passages community forums series -- which helps to offset the costs of several reporter and editor positions at the newspaper -- by using the easy options below. Gifts processed in this system are not tax deductible, but are predominately used to help meet the local financial requirements needed to receive national matching-grant funds.
Subscribe to the sports newsletter
Get the day's top sports headlines and breaking news delivered to your inbox by subscribing here.
---