News > Nation/World
Suspected terrorists arrested
Thu., June 16, 2005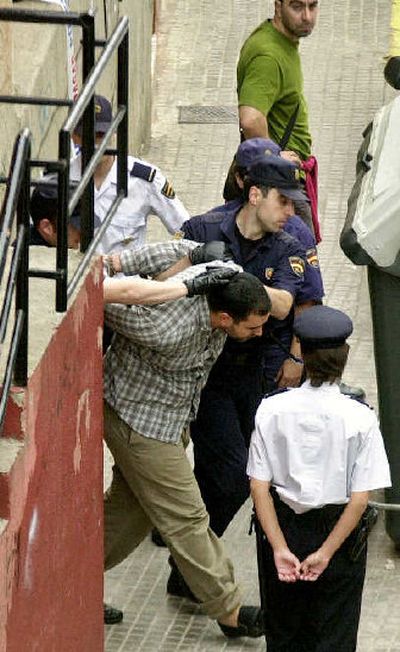 MADRID, Spain – Spanish police arrested 11 men on Wednesday on charges of belonging to a Syrian-based network that recruited suicide bombers to attack U.S. troops in Iraq, officials said on Wednesday in revealing a new facet of Spain's role as an al Qaeda staging ground.
Five other people were detained a day earlier in connection with last year's train bombings in Madrid that killed 191 people and wounded more than 1,500, authorities said.
More than 500 police staged pre-dawn raids in a half dozen cities to grab the 11 alleged members of a recruiting network that has ties to Abu-Musab al-Zarqawi's terror group, al Qaeda in Iraq, the Interior Ministry said.
Spain has had several brushes with al Qaeda, including the commuter train bombings on March 11, 2004, a reported plot to blow up a Madrid courthouse last year and militants' alleged use of Spain to help organize the Sept. 11, 2001, attacks on America.
But this was the first time Spain arrested people on suspicion of sending suicide attackers to Iraq, officials at the National Court said. The officials spoke on condition of anonymity because of the sensitivity of their jobs at the country's hub for Islamic terror investigations and the target of last year's foiled bomb plot.
While Iraq's insurgency is believed to be primarily made up of domestic Sunni Arabs, nearly all suicide bombings there are thought to be committed by Islamic extremists from other countries. Al-Zarqawi's group is blamed for the bloodiest attacks.
The Interior Ministry said some of the 11 suspects tied to the recruiting network said they wanted to become "martyrs for Islam" in suicide attacks and were awaiting orders to do so. It did not specify how authorities learned that.
"Basically, what the police accuse them of is raising money and recruiting people to do activities abroad related with the international jihad," or holy war, Interior Minister Jose Antonio Alonso told reporters.
Most of the 11 are Moroccan and almost all sold drugs and staged robberies to finance their network, the ministry said. They were arrested as part of a probe that began in 2004.
Raids were conducted in Barcelona, Valencia, the southern Andalusia region and Ceuta, a Spanish enclave on the northern coast of Morocco. Police video showed officers standing over handcuffed men kneeling or lying face down, sometimes in their underwear, at their homes.
The Interior Ministry said the 11 belonged to a terror group that was established in Spain and linked to Ansar al-Islam, with a recruiting network in Syria and believed to have ties to al-Zarqawi's group.
Ansar al-Islam was formed in the Kurdish parts of Iraq and is believed to include Arab al Qaeda members who fled the U.S.-led invasion of Afghanistan in late 2002.
Local journalism is essential.
Give directly to The Spokesman-Review's Northwest Passages community forums series -- which helps to offset the costs of several reporter and editor positions at the newspaper -- by using the easy options below. Gifts processed in this system are not tax deductible, but are predominately used to help meet the local financial requirements needed to receive national matching-grant funds.
Subscribe now to get breaking news alerts in your email inbox
Get breaking news delivered to your inbox as it happens.
---