News > Spokane
A chrome and color delight
Sun., June 19, 2005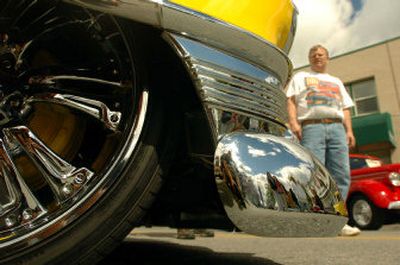 Almost everyone with a little gray hair could find a childhood memory at the Car d'Lane car show Saturday in downtown Coeur d'Alene.
It was no trick at all to find a memory from your grandparents' childhood, if you didn't mind a little embellishment.
The 500 or more vintage cars on both sides of Sherman and Lakeside avenues may have started life as a 1936 Ford roadster or some other flavor of black, but they have ascended to candy apple reds, neon blues, lime greens, electric yellows and chrome highlights that Henry Ford could never have imagined.
Oh, the chrome.
The car show brought a lot of foot traffic to the Painter's Chair art gallery, but art consultant Teresa Eller – who is married to a car enthusiast – despaired of selling anything that wasn't chrome-plated.
"We need to design a chrome-exhaust frame or something," Eller joked.
However, several paintings by San Diego artist Steve Barton featured woodies, the wood-paneled station wagons immortalized by the Beach Boys. At $3,500, the wagon in one of Barton's oil-on-canvas beach scenes may have been the most affordable classic car in town.
Post Falls resident Bob Foster was trying to sell his 1932 Ford three-window coupe for $75,000, a $10,000 discount from what he said was its appraised value.
The street rod's candy apple red paint sported subtle "ghost-wing" flames on the sides that were reprised in the inlaid design of the car's interior leather door panels. The car's rear-mounted fuel tank was made of highly polished stainless steel, and nearly everything underneath the car was, you guessed it, chrome.
A retired railroad worker, Foster takes pride in that the car consists of original parts except for one front fender. It makes no difference that most everything else, from the grille in front to the rumble seat in back, is new.
There is nothing inconsistent in Foster's attitude, according to Surrey, B.C., resident Henry Tjart, who was showing a bright orange 1936 Ford roadster in the next block.
"A lot of these cars are reproduced in fiberglass," Tjart explained. "I guess you are held in higher esteem if you can round up the original parts."
But embellishments such as braided stainless steel pressure hoses, fancy wheels, even air-conditioners and sound systems, are part of the restorer's art. It's a form of expression.
Some car connoisseurs are more easily impressed than others, of course.
Four-year-old Jaydyn Kitchen gave Sandpoint resident Glenn Jackman's 1953 Cadillac Coupe de Ville her best-of-show designation. It didn't matter to her that the car sat in a Utah potato pit for 15 years before it was restored, or that an air-bag suspension lowered it to her level. She just liked the "cool" yellow paint.
Andy Hills, a mechanic at Appleway Audi in Spokane Valley, said he also preferred customization over historical accuracy.
"That shows more creativity to me," he said.
Hills would like to build a street rod himself someday. But, he said, tapping his wife, Angela, on the stomach, "we're going to have a child here pretty soon."
Creativity looks authentic and comes with a sense of humor for Richmond, British Columbia, resident Bob Brown. He built what appears to be a station wagon version of a 1965 Pontiac GTO muscle car.
"It's one of none," he said, but some people are undaunted by the fact that General Motors never built such a car.
Brown said he heard one GM dealer say at a car show, " 'I read somewhere that they made a half-dozen of these – really rare.' "
On the other hand, Hayden resident Tom Coit displayed a real car that looked like a prank: a 1959 Ford Skyline convertible with a motorized, metal roof and rear hatch. A 3-by-3-foot box under the hatch is the only space for luggage in the enormous vehicle when the top is folded down.
"They only made these things 3½ years," said Coit, who drives the rolling conversation piece as an advertising salesman for the Coeur d'Alene Press.
One might suppose such an elaborate system was designed to guarantee passengers stay dry in a rainstorm, but that hasn't been Coit's experience.
Fortunately, there was little rain Saturday to test Coit's car or the thousands of spectators who choked downtown streets.
But rainfall Thursday night brought out the best in Coeur d'Alene, according to Tjart.
He went on a lake cruise and found 10 or so teenagers around his '36 roadster when he returned. It had started to rain, and the youths were concerned that the water would damage the car, which has no side windows, Tjart said.
To protect the car, the teens had placed their jackets over the sides of the car's convertible roof, he said.
"They were as good an ambassador for your town as I've seen," Tjart said. "I wish I had gotten their names."
Local journalism is essential.
Give directly to The Spokesman-Review's Northwest Passages community forums series -- which helps to offset the costs of several reporter and editor positions at the newspaper -- by using the easy options below. Gifts processed in this system are not tax deductible, but are predominately used to help meet the local financial requirements needed to receive national matching-grant funds.
Subscribe now to get breaking news alerts in your email inbox
Get breaking news delivered to your inbox as it happens.
---