Sports
Edwards gets past Truex, wins Busch
Sun., June 19, 2005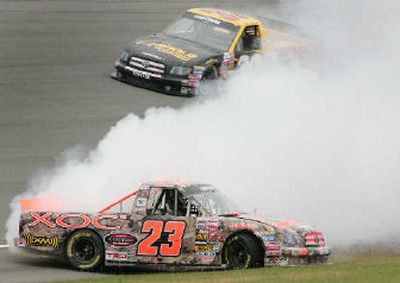 Carl Edwards raced to his third NASCAR Busch Series victory of the year Saturday night, passing Martin Truex Jr. with a little more than lap to go in the Meijer 300 at Kentucky Speedway in Sparta, Ky.
Edwards, who won the Nextel Cup event last Sunday at Pocono after missing the rain-delayed Busch Series race in Tennessee, worked his way back to the front of the field after dropping to ninth with a four-tire stop with 31 laps left.
Edwards led 150 of 200 laps in his Roush Racing Ford on the 1 1/2 -mile oval, finishing 0.69 seconds ahead of Truex's Chevrolet.
Setzer gets truck win
Dennis Setzer raced to his first NASCAR Craftsman Truck Series victory of the season Saturday, winning under caution after Ted Musgrave blew an engine while running second with less than two laps to go.
Setzer took the white flag for the final lap just before NASCAR officials threw the caution flag for Musgrave in the Paramount Health Insurance 200 on the two-mile Michigan International Speedway in Brooklyn, Mich.
Newman grabs pole
It took Ryan Newman just more than 37 seconds to grab his fifth pole of the season and first at Michigan International Speedway.
NASCAR's "Rocketman," well on the way to becoming the best qualifier in the history of the stock car series, was the 43rd of 47 qualifiers when he turned a lap of 194.232 mph on the 2-mile, high-banked oval.
The lap – timed at 37.069 seconds – was easily good enough for his 32nd pole in 104 races.
Newman, a two-time Michigan winner and the defending race champion, was one of 26 drivers who bettered the previous qualifying record of 191.149, set in August 2000 by Dale Earnhardt Jr.
Tony Stewart (193.512) wound up third when Casey Mears followed Newman onto the track and turned a lap of 193.757 to grab the outside spot on the all-Dodge front row for today's Batman Begins 400 Nextel Cup race.
Kasey Kahne, driving another Dodge, will start alongside Stewart's Chevrolet at 193.123, followed by the Charger of Kahne's teammate Jeremy Mayfield at 193.086 and the Chevrolets of Bobby Labonte and Brian Vickers at 193.055 and 192.818.
Rounding out the top 10 were Robby Gordon at 192.771, Jeff Gordon at 192.658, and seven-time Michigan winner Bill Elliott at 192.658.
Wilson fastest at Portland
Justin Wilson will start from the pole for the first time in the Champ Car Grand Prix of Portland, with the other front-row spot going belatedly to teammate A.J. Allmendinger after a power outage prompted a challenge over qualifying results.
Defending race champion Sebastien Bourdais contested that his best lap of qualifying – which would have put him in the No. 2 position – came during the outage that disrupted the timing system at Portland International Raceway.
After a lengthy review, Champ Car officials stood on the initial results, which gave the outside spot for today's race to Allmendinger based on his best lap on the 1.964-mile road course on Friday.
Wilson won the provisional pole Friday when he toured the road course in 57.597 seconds (122.756 mph). That guaranteed him a front-row spot and earned him a series point.
He also had the fastest lap on Saturday at 57.808 seconds.
Toyota comes through at F1
Jarno Trulli salvaged what was shaping up to be a miserable weekend for the Toyota team by winning the pole for the United States Grand Prix.
Trulli had a time of 1 minute, 10.625 seconds around the road course at Indianapolis Motor Speedway to earn the first pole for Toyota.
Earlier in the day, teammate Ralf Schumacher wasn't medically cleared to race after a hard accident he had during a practice session.
"It has been a difficult time for everybody here," Trulli said. "For sure it is a mixed emotion weekend."
Local journalism is essential.
Give directly to The Spokesman-Review's Northwest Passages community forums series -- which helps to offset the costs of several reporter and editor positions at the newspaper -- by using the easy options below. Gifts processed in this system are not tax deductible, but are predominately used to help meet the local financial requirements needed to receive national matching-grant funds.
Subscribe to the sports newsletter
Get the day's top sports headlines and breaking news delivered to your inbox by subscribing here.
---