Sports > Outdoors
Rapid development
Sun., June 19, 2005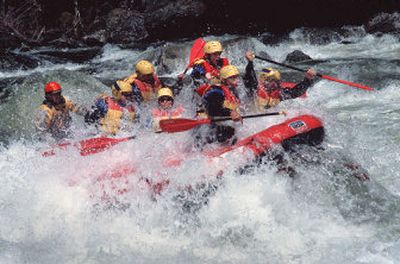 Idaho's Lochsa River offers several whitewater rafting options for thrill-seekers, but staying dry isn't one of them.
The river tumbles down the west side of the Bitterroot Mountains, with 63 rapids identified by the Forest Service on about 57 miles of river between Crooked Fork Creek and Lowell. More than half of those rapids will wash your face, while more than a few have the force to rearrange it.
Lochsa is derived from a Nez Perce term meaning "rough water."
From May into July, it's a modern river runner's nirvana.
U.S. Highway 12 runs along it like a glorified logging road, creating miles of cheap thrills for rafters and kayakers as well as spectators. Because access is so convenient, river rafting companies can offer one-, two- or even three-day trips at far lower cost than backcountry excursions.
Friends, family and strangers alike can catch the Lochsa excitement on video at highway turnouts that overlook many of the best rapids.
On Memorial Day weekend, motorcycles, RVs and other vehicles were stopped every few miles to watch the show.
"There doesn't seem to be as much carnage as usual, but it's still pretty good," joked one spectator above the river at Lochsa Falls, which is well known for tipping rafters, catarafters and kayakers who error in reading the turbulent water.
Yet the river is respected as much as it's enjoyed. It would be extremely rare to see a boater heading down this river without a lifejacket, helmet, wet suit and companions for backup.
"We've been doing this every spring for years," said Donna Larsen, who helps organize a group of Spokane Camera Club members and other adults to run the Lochsa River with Coeur d'Alene-based River Odysseys West. "There's no time to get bored on this river," she added as she prepared to embark on yet another wild ride.
The Lochsa delivers, says Peter Grubb and his wife and business partner, Betsey Bowen. That's why they've recently launched the biggest commitment in the 26 years since Grubb founded ROW.
The River Dance Lodge, featuring a restored landmark café and eight luxury hand-hewn log cabins, opened May 20 at Syringa, just six miles downstream from where the Lochsa and Selway rivers merge to form the Middle Fork of the Clearwater.
The $1.4 million project about halfway between Lolo Pass and Orofino has notched them into another league of service.
"We have a campground for our river guests who prefer that style, but the cabins appeal to a wide range of people, from couples and small groups to corporate gatherings and family reunions," said Grubb, who's still putting finishing touches on the facility.
For most of ROW's trips on rivers such as the Snake, Salmon, Grand Ronde, Owyhee, Bruneau and Missouri as well as the company's international excursions, ROW continues to rely on existing facilities owned by local businesses. Although Grubb has a warehouse in Lewiston to maintain gear that heads out to a dozen rivers in Idaho and Montana, the operation on the Clark Fork River, for example, operates out of a few small farmhouses serviced by the classic old school bus that's become an icon of river outfitters.
But as his footing on the Lochsa began to erode, Grubb saw the lodge business as a key to survival.
"We'd been staging out of Three Rivers Resort (at Lowell), but now that they're growing into rafting it's clear there eventually wouldn't be room for us there," Grubb said.
The Lochsa, Selway and Middle Fork of the Clearwater rivers were among the originals listed in the 1968 Wild and Scenic Rivers Act. The protected status assuring the eye-appeal that attracts river-oriented tourists also restricts future development.
"There's basically no land open to new development," he said. "We were lucky to find an existing place that we could work with."
The basis was the tiny Syringa Café.
Built in 1962 at the lonesome speck on the map named for the Idaho state flower, the Syringa Café became a landmark for travelers on the just-completed Highway 12.
The original owners sold out in the 1980s and the café was closed in the 90s. ROW bought the building and surrounding five acres in 2002 and restored and reopened the café last year.
"It's amazing how many people come through and say they remember the huckleberry pie they ate here as a kid when their family stopped in," Grubb said. "So we've kept that tradition."
A former cook and her mother come in three days a week to make the huckleberry pies. "They use a secret recipe they won't even share with us," Grubb said.
The Syringa Café may have the most eclectic menu on Highway 12. In a twist imported from Grubb's travel lust — ROW offers international boat-based trips to culturally steeped locales such as Greece, France and Croatia — two natives of Turkey embellish the kitchen with Mediterranean cuisine.
Get a hamburger or a gyros sandwich, steak or beef tava, pasta or Kavurma stew, fresh salads or kebobs.
Tamer Sezer and Ela Bayri, the young couple operating the café, also feature a Hawaiian coconut shrimp recipe they picked up from one of their personal favorite destinations.
However, ROW ties into local history wherever it operates, and River Dance Lodge is no exception. Being on the Lewis and Clark Trail, the Syringa Cafe offers a special expedition menu that allows travelers to feast on game-farm elk, buffalo burger and Mandan soup.
"We have a Nez Perce friend who brings us fresh Clearwater River salmon when it's available, and we have it right now," Grubb reported by telephone on Monday.
"These are foods Lewis and Clark ate, but we offer the advantage they didn't have — of being able to wash it down with microbrew beer or good wine."
Grubb's roots in the region's history are genuine. His grandfather was in the first graduating class of the Penn State University forestry school in 1909. He joined the fledgling U.S. Forest Service and soon was doing pioneering forestry in Idaho. He helped chain-survey the Humbolt National Forest boundary on the Idaho-Nevada state line.
The café features several black-and-white photos Grubb's grandfather snapped while traveling on Salmon River sweep boats.
Local and family history also seeps into the new River Dance Lodge cabins, each of which has a deck and private hot tub as well as a theme, such as the Angler, Naturalist, Pioneer, Woodsman and Nez Perce.
Bowen's father, Channing, hand-made the benches on each cabin deck, where guests can relax overlooking the Middle Fork.
Even with all the amenities the lodge and café offer, the rivers continue to be the main attraction, Grubb said.
Despite this year's notoriously thin snowpack, rain showers have been frequent enough to keep the Lochsa at good levels for rafting and ROW is booking trips into mid-July.
When the thunderous whitewater subsides, the lodge's focus will shift to the excellent trout fishing on the Lochsa and Selway as well as more leisurely rafting, tubing and canoeing in clear and pleasantly warm waters.
Trails into the Selway-Bitterroot Wilderness are just a short drive away, as is the historic Lolo Trail, the route Lewis and Clark followed over the Bitterroot Mountains.
But asked if the Lochsa must be his favorite river, Grubb answered like a true river rat: "I always say my favorite river is the one I'm on."
Local journalism is essential.
Give directly to The Spokesman-Review's Northwest Passages community forums series -- which helps to offset the costs of several reporter and editor positions at the newspaper -- by using the easy options below. Gifts processed in this system are not tax deductible, but are predominately used to help meet the local financial requirements needed to receive national matching-grant funds.
Subscribe to the sports newsletter
Get the day's top sports headlines and breaking news delivered to your inbox by subscribing here.
---