News > Nation/World
Rice urges dialogue in Mideast
Sun., June 19, 2005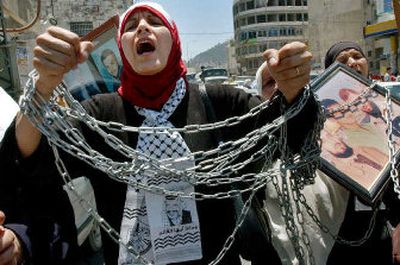 RAMALLAH, West Bank – Israeli and Palestinian leaders must immediately settle their disputes over a planned withdrawal of Jewish settlers and troops from the Gaza Strip, Condoleezza Rice said Saturday.
"There is no more time to simply put problems on the agenda," the U.S. secretary of state said after meeting with Palestinian President Mahmoud Abbas and members of the Cabinet.
Renewing U.S. involvement in the Mideast peace process, Rice said coordination between the two sides was crucial to this summer's planned pullout from Gaza and parts of the West Bank. The U.S. hopes an orderly withdrawal could breathe new life into the internationally supported peace process, known as the road map.
"We must all focus on the disengagement as our best chance to re-energize the road map," Rice said at a news conference with Abbas at the Palestinian Authority's headquarters.
Rice, on a weeklong trip to the Mideast and Europe, was to meet with Israeli Prime Minister Ariel Sharon in Jerusalem today.
Sharon's Gaza plan has led to fears that Israeli settlers could put up a fight or that militants opposed to peace might use violence to disrupt their departure. Also, it is not clear that Palestinians can ensure security and sustain a working government to fill the vacuum Israel leaves behind after 38 years.
Israeli and Palestinian officials have met in recent weeks to try to ensure that Israel's pullout from Gaza and four northern West Bank settlements will not create chaos. No agreement has resulted.
Rice urged Israelis and Palestinians to work together to quickly address a number of unresolved issues, including Palestinians' freedom of movement and access to different parts of the territories after the Israelis' withdrawal; the status of settlers' properties; and security.
"One reason I am here is to encourage the parties to actively, now, concretely solve these problems," she said. "Both parties will have to do their parts."
Abbas, who plans a summit meeting with Sharon on Tuesday, promised "total coordination with the Israeli side" to ensure a peaceful pullout.
He emphasized that the Palestinians were committed to a four-month-old truce with Israel but complained that Israel repeatedly had violated the agreement and appealed for Israel to release Palestinian prisoners and lift roadblocks.
The number of attacks has dropped since the cease-fire agreement in February. Yet attacks by militants and raids by Israeli soldiers continue.
Local journalism is essential.
Give directly to The Spokesman-Review's Northwest Passages community forums series -- which helps to offset the costs of several reporter and editor positions at the newspaper -- by using the easy options below. Gifts processed in this system are not tax deductible, but are predominately used to help meet the local financial requirements needed to receive national matching-grant funds.
Subscribe now to get breaking news alerts in your email inbox
Get breaking news delivered to your inbox as it happens.
---