News > Nation/World
Tehran's mayor will join in run-off
Sun., June 19, 2005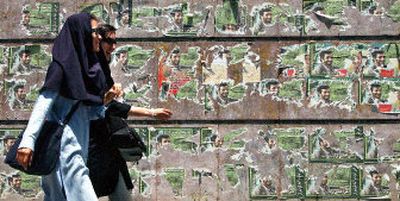 TEHRAN, Iran – Tehran's arch-conservative mayor capped a stunning political rise Saturday to claim second place in Iran's presidential race and face one of the nation's most famous statesmen in a head-to-head vote.
Mayor Mahmoud Ahmadinejad – a 49-year-old former student radical backed by Iran's ruling clerics and their military guardians – was considered a long-shot challenger in Friday's election. But he rode to the presidential run-off on his popularity among Iran's hard-line factions and key groups such as the elite Revolutionary Guards.
One rival, former parliament speaker Mahdi Karroubi, accused Islamic vigilantes and soldiers of "intimidating" voters to back Ahmadinejad – who slipped past Karroubi 19.48 percent to 19.3 percent. Karroubi's aides demanded an official probe and warned they could unleash street demonstrations.
Karroubi's campaign chief, Ali Akbar Montashamipour, said any signs of military interference in politics would make "people rise up against the establishment."
The top vote-getter, political veteran Ayatollah Hashemi Rafsanjani, was left shaken with just slightly more than 21 percent of the ballots. He will face Ahmadinejad next Friday in Iran's first run-off elections. To win outright, a candidate needed a majority of all votes cast.
The results also reflected significant shifts under way in Iran – with conservatives reclaiming more ground and liberals worrying more about jobs and foreign policy leadership than the fight for greater social freedoms.
The top pro-reform candidate, former culture minister Mostafa Moin, was humbled by a distant fifth-place finish. Moin, considered the political heir of outgoing President Mohammad Khatami, was billed as Rafsanjani's most credible rival.
But his bid was steamrolled by conservatives at the polls despite the respectable 62.7 voter turnout that defied a boycott drive by groups opposing the Islamic system – which comprised a strong part of Moin's bloc.
"Our failure … doesn't mean reforms have come to an end or Iran doesn't need change," said Elaheh Koolaee, a top aide for Moin.
The snub, said Tehran-based political analyst Reza Fathi, was also a parting shot to Khatami's eight years in office.
Khatami managed to lift many of the social restrictions imposed after the 1979 Islamic Revolution such as bans on dating and Western music. But he failed in his main missions: to weaken the all-powerful controls of the theocracy and improve the stumbling economy. Despite vast oil and gas wealth, many people earn less than $2,000 a year, inflation runs above 20 percent and some analysts place the jobless rate near 40 percent.
"In the current situation of inflation and unemployment, the promise of more freedom just attracts intellectuals," said Fathi. "That time is over."
The upcoming election duel will offer distinct choices.
Rafsanjani, 70, is a mix of political cunning and business power as nominal head of a family empire that includes an airline and a large cut of the nation's $400 million pistachio export business. He served as president from 1989-97 – bowing out because of a two-term limit – and then moving into the inner circles of the theocracy.
He portrays himself as the most capable leader to handle Iran's delicate negotiations with the West over its nuclear ambitions, which Washington claims is a cover for a weapons program. Iran says it only seeks peaceful nuclear power.
Ahmadinejad draws his support from Iran's ultraconservative wings such as veterans of the 1980-9 war with Iraq and the civilian "basiji" militia corps with ties to ruling establishment.
He was a member of a militant student faction during the revolution and later volunteered to fight on the front lines against Saddam Hussein's forces. He served in provincial posts in the 1990s before being appointed as mayor of Tehran in 2003 by the conservative-led municipal council.
Rafsanjani has suggested he would be open to greater dialogue with the United States. But Ahmadinejad told a news conference Saturday that he could not foresee improved ties with any country that "seeks hostility" against Iran.
He added that he supports nuclear talks with the West but did not elaborate.
"I picked Ahmadinejad to slap America in the face," said Mahdi Mirmalek after attending Friday prayers at Tehran University.
But critics in Iran – led by Karroubi – could mount a backlash against Ahmadinejad over allegations his military supporters tried to strong-arm the vote. Election officials must formally approve the results before the run-off is assured.
Local journalism is essential.
Give directly to The Spokesman-Review's Northwest Passages community forums series -- which helps to offset the costs of several reporter and editor positions at the newspaper -- by using the easy options below. Gifts processed in this system are not tax deductible, but are predominately used to help meet the local financial requirements needed to receive national matching-grant funds.
Subscribe now to get breaking news alerts in your email inbox
Get breaking news delivered to your inbox as it happens.
---